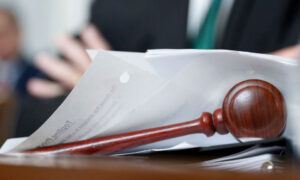 VISTA, Calif.—A woman who fatally shot her husband at their Carlsbad home over a decade ago was re-sentenced March 9 to 40 years to life in state prison.
Julie Harper, 49, was convicted of second-degree murder and a gun-use allegation for the 2012 slaying of her husband, Jason Harper, 39. She was convicted in a 2015 retrial after a prior jury acquitted her of first-degree murder and deadlocked on a second-degree murder count.
The shooting happened in an upstairs room of the Badger Lane home while the couple's three kids were downstairs watching television.
Harper testified that she fired the gun accidentally as her husband charged at her during an argument.
The second-degree murder conviction resulted in a 15-year-to-life sentence, with 25 years to life added for the firearm allegation.
A recent California Supreme Court ruling allows judges the discretion to wipe out the gun enhancement, which Harper recently requested in order to shorten her prison term.
Superior Court Judge Blaine Bowman previously rejected a similar sentence reduction request in 2018 and on Thursday, Bowman maintained the original sentence he imposed.
Deputy District Attorney Keith Watanabe argued in court filings that dismissing the gun enhancement would endanger public safety. He alleged Harper committed the killing with aims of fleeing indicated by a "getaway bag" she had prepared with passports and a large amount of cash, as well as her disposal of the murder weapon, which has never been found.
In a written statement, Jason Harper's mother, Lina Harper, urged for the 40-year-to-life sentence to remain in place.
"She should not be free until she has served at least the number of years she took away from Jason when she shot him, otherwise, justice and fairness for Jason will not have been served," she wrote.