4 Dead After Boat Carrying Illegal Immigrants to UK Capsizes in English Channel
Four people have died after a boat carrying illegal immigrants capsized in the English Channel, the UK government has confirmed.
A government spokesman said on Dec. 14: "At 0305 today, authorities were alerted to an incident in the Channel concerning a migrant small boat in distress.
"After a coordinated search and rescue operation led by HM Coastguard, it is with regret that there have been four confirmed deaths as a result of this incident. Investigations are ongoing and we will provide further information in due course."
In the House of Commons, Prime Minister Rishi Sunak expressed his "sorrow" at the incident.
He said: "I'm sure the whole House will share my sorrow at the capsizing of a small boat in the Channel in the early hours of this morning, and the tragic loss of human life. Our hearts go out to all those affected and our tributes to those involved in the extensive rescue operation."
Sir Keir Starmer, leader of the main opposition Labour Party, said: "Our prayers go out to those who capsized in the freezing waters of the Channel last night. It's a reminder that the criminal gangs running those routes put the lives of the desperate at risk and profit from their misery. They must be broken up and brought to justice."
'Lethally Dangerous'
Updating MPs on the deadly incident, Home Secretary Suella Braverman expressed her "profound sadness" and said: "These are the days that we dread. Crossing the Channel in unseaworthy vessels is a lethally dangerous endeavour. It is for this reason, above all, that we are working so hard to destroy the business model of the people smugglers—evil, organised criminals who treat human beings as cargo."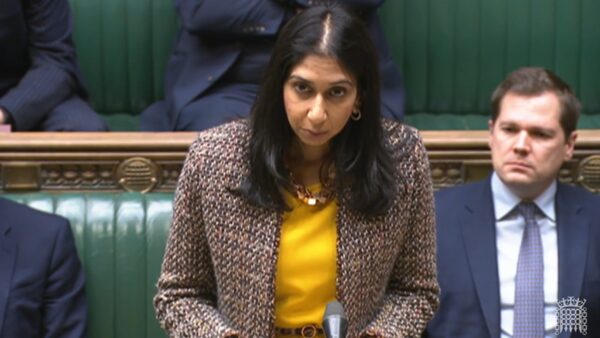 More than 44,000 illegal immigrants have arrived in the UK by crossing the Channel in small boats this year, government figures show.
These illegal crossings have turned deadly before. At least 27 people died when a dinghy sank while heading to the UK from France in November last year.
Braverman told MPs: "This morning's tragedy, like the loss of 27 people on one November day last year, is the most sobering reminder possible of why we have to end these crossings."
New Plan
The incident took place less than a day after the prime minister unveiled a new five-point plan to curb illegal immigration.
Addressing the House of Commons on Dec. 13, Sunak announced a "permanent" and "unified" Small Boats Operational Command, which he said will consolidate the military and civilian capabilities to take a coordinated approach to policing the English Channel.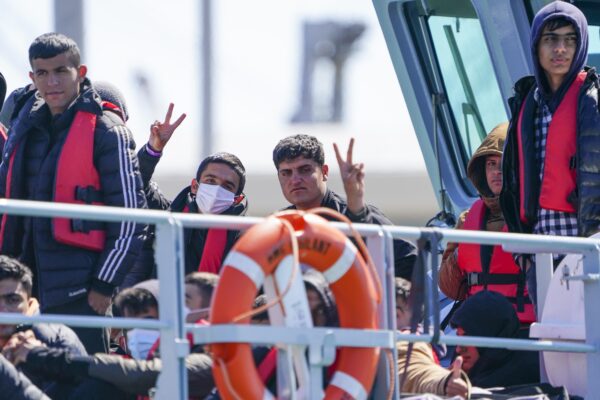 The National Crime Agency, which is promised 700 new recruits and a doubling of its funding, will also be part of the unit.
He also set out plans to change the immigration legal framework, vowing to introduce new legislation early next year to "make unambiguously clear that if you enter the UK illegally you should not be able to remain here."
The prime minister argued many of the small boat arrivals came from "fundamentally safe countries" and all travel through safe countries.
Illegal arrivals will be "detained and swiftly returned" to their home country or a safe country where their asylum cases will be considered, and will have "no right to reentry, settlement, or citizenship," Sunak said.
Citing the £5.5 million ($6.8 million) daily cost of housing asylum seekers in hotels, the prime minister said the government is eyeing alternative sites such as "disused holiday parks, former student halls, and surplus military sites" to halve the bill.
Following the deadly incident, the home secretary told MPs, "It was evident that we had to go much further, which is why the prime minister announced a new package yesterday."
Braverman said the proposed legislation to deter the illegal Channel crossings "will save lives."
'Too Weak'
Labour's shadow home secretary Yvette Cooper expressed sorrow at the "truly tragic, deeply distressing news" and said action to tackle people smuggling and trafficking gangs has been "too weak."
She told the House of Commons: "It was barely more than a year ago that 27 lives were lost when a boat went down. All of us have warned, all of us have feared that it was just a matter of time before more lives were lost. It is, of course, why the UK and France both need to act to stop these dangerous boat crossings."
She added: "Day after day, week after week, criminal gangs are putting lives at risk for money. The other brutal truth is that far from stopping those criminal gangs, those gangs have grown and grown.
"The UK and French governments and authorities have failed to stop the criminal and smuggler and trafficking gangs proliferating around the Channel. The action against those gangs has been too weak. There have been barely any prosecutions or convictions and barely any inroads into the smuggler gangs."
Stressing the need to crack down on the gangs, she said: "They need to be caught, they need to be prosecuted, they need to be jailed for the loss of life in the cold sea. We need comprehensive action."
Lily Zhou and PA Media contributed to this report.