50,000 Australians Call for COVID-19 Vaccine Gag Orders on Medical Practitioners to End
Around 50,000 Australians have signed a petition calling on the federal Parliament to strip the country's medical accreditation board of the power to silence health practitioners from criticising the efficacy of COVID-19 vaccines and vaccine mandates.
The petition, "AHPRA edict silencing health practitioners," was filed by a Dr. Adrian Gully and is due to close on Oct. 27. So far, it has been signed by 46,573 individuals—as of Oct. 14.
It states there has been evidence that the Australian Health Practitioner Regulation Agency (AHPRA) has "silenced health practitioners" who have raised concerns about current COVID-19 vaccines, with some facing dismissal or losing their practice if they "go against the main narrative."
"We, therefore, ask the House (of Representatives) to remove the AHPRA edict and allow all health practitioners the freedom to speak honestly and openly about their concerns," the petition stated.
"This is a matter of public safety and ethical obligation. There is growing global concern about the short, medium, and long-term effects of the COVID-19 vaccine. Removing the AHPRA edict would also allow open debate about the other possible ways of treating COVID-19."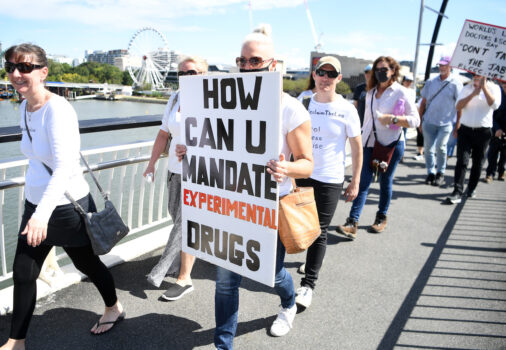 AHPRA is the national accreditation body for medical professionals in the country and works with 15 other bodies responsible for major professions such as nurses or general practitioners.
The body has also previously confirmed to The Epoch Times that it had received complaints regarding medical professionals "failing to meet" their Code of Conduct obligations and contravening existing COVID-19 medical health guidelines.
It said it had received complaints regarding health practitioners who were advocating views contrary to public health advice (without evidence to back those views); prescribing non-evidence-based treatments without proper disclosure around risks or benefits; and breaching public health orders (and being fined) for not social distancing, wearing masks, or abiding by health restrictions.
"Experience tells us that most practitioners, when concerns are raised directly with them, modify their behaviour to become compliant," a spokesperson said. "In a small number of cases, national boards are likely to take action to ensure the actions of the practitioner do not place the public at risk of harm."
AHPRA guidelines (pdf) state that health practitioners must ensure their social media activity "does not contradict or counter" public health campaigns or messaging.
The petition to Parliament comes after the suspensions of several Australian medical practitioners seemingly for criticising public health advice.
In early September, Dr. Paul Oosterhuis, a Sydney-based anaesthetist, was suspended after—what he claimed—were two anonymous complaints lodged against him over his social media activity.
"I discussed issues such as early treatment and prophylaxis against COVID-19, evidence for government measures such as lockdowns and PCR tests, and evidence regarding risk-benefit analyses of COVID-19 vaccines," he wrote in an online petition on the Doctors for COVID Ethics website.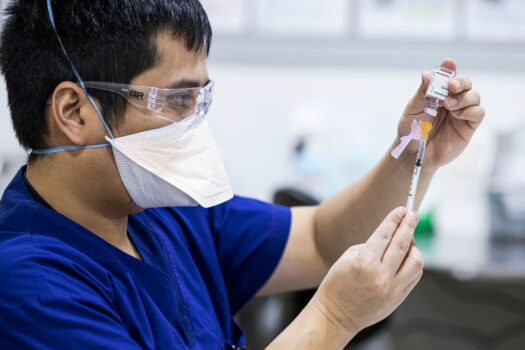 "Over the last 18 months, I have been increasingly concerned about the misinformation and censorship creeping into science and medicine," he said.
The New South Wales (NSW) Medical Board confirmed his suspension saying the action was taken to "protect the health and safety of the public" and to maintain confidence in the profession. The Board would not elaborate on the exact reasons for its actions, however.
In late September, NSW paramedic John Larter—who is also serving as the deputy mayor of Snowy Valleys Council—was suspended from his work by the Paramedicine Council of NSW on Sept. 17.
Larter is involved in a lawsuit against the NSW State Health Minister Brad Hazzard challenging a public health order mandating health workers to receive the first dose of the vaccine by Sept. 30 and the second dose by Nov. 30.
He has received $158,840 on GoFundMe to support his campaign.