As Canadians brace themselves for another interest rate hike and a potential recession, a survey shows that 60 percent of Canadians are worried about the potential impacts interest rate hikes will have on them.
MNP, one of Canada's largest insolvency firms, says that the number of Canadians worried about interest rates is higher than ever since they started keeping track in 2017, with renters and low-income households being the most financially vulnerable to the impacts of rate hikes.
"These groups will need to be particularly cautious with their spending in the coming months to keep themselves out of financial trouble," said Grant Bazian, president of MNP.
The Central Bank of Canada is expected to raise interest rates by half or three-quarters of a percent on Oct. 26.
"Canadians with a household income of less than $40,000 are the most likely to feel the effects of interest rate increases, to be concerned with their ability to repay their debts, to say that rising rates would cause them to face financial trouble, and to fear that rising interest rates are moving them closer towards Bankruptcy," Bazian said in MNP's report.
Finance Minister Chrystia Freeland said that the Bank of Canada being independent is important to ensure stability. She acknowledged that inflation is too high and that life is difficult financially right now for many people.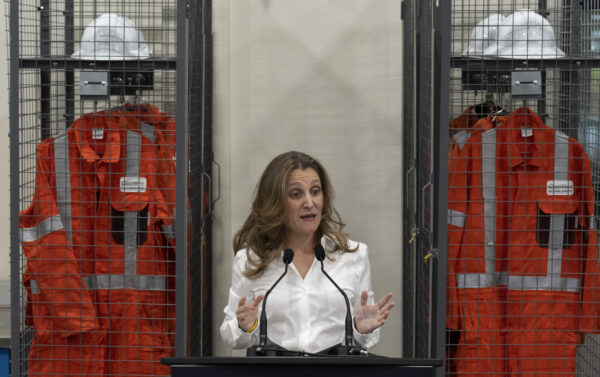 'Challenging Months Ahead'
"I'm not going to sugarcoat it and I'm not going to claim that we don't have some challenging months ahead. We do," Freeland told reporters in Gatineau on Oct. 17.
Renters are more concerned than homeowners about rising interest rates. Forty-five percent of renters said that rising interest rates could move them toward bankruptcy, according to MNP's report.
Although inflation rates in Canada dropped slightly in September, food costs continued to climb.
"Smaller expenses on your credit card often go unnoticed but can really add up," Bazian said, suggesting that people struggling with debt should check their credit card statements for monthly subscriptions that they could give up.
"Start cutting back by cancelling subscriptions you rarely or no longer use and check to see if you have any overlapping services you can cut. Keep an eye on trial offers and set reminders to cancel before you're charged or the pricing goes up. Always look over your bills each month with a critical eye to keep those recurring expenditures in check and cut down on costs where you can," Bazian said.
Eighty-four percent of Canadians say they will be more careful with their spending with the rising interest rates, according to MNP's report.
More than half of Canadians already feel the effects of high interest rates, and just over one-fifth say that they "don't have a solid understanding of how interest rate increases impact their financial situation," the report said.
The Canadian Press contributed to this report.