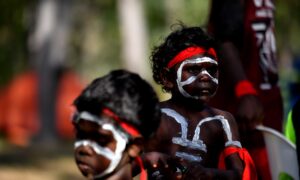 An Aboriginal leader has called for a royal commission into mounting Indigenous child deaths, voicing concern it could bring about another stolen generation.
The number of Indigenous children dying who are known to Victoria's child protection services had risen alarmingly in recent years, Aboriginal Justice Caucus co-chair Chris Harrison said.
The Wotjobaluk man said more Aboriginal children linked to child protection had died than those in the justice system.
"The worst thing is are we going through that stage now of 'is that our new stolen generation, or as we're saying the forgotten generation?'," he told the Yoorrook Justice Commission on Friday.
"Because they're only being referred to as baby X or child Y or child Z."
The Commission for Children and Young People's 2021/22 annual report found Aboriginal children and young people were over-represented in its inquiries into kids who died within 12 months of their last involvement with child protection.
Two Aboriginal children and young people were among the 37 notified child deaths last financial year and made up seven of its 41 completed child death inquiries.
Thirteen of the 45 children known to Victoria's child protection services who died over the 2020/21 financial year were Aboriginal.
Harrison said revelations in the most recent report should have been front-page news but were hidden in the data among a raft of 265 government documents tabled on December 20.
"Once we got that … we said that DFFH (the Department of Families, Fairness and Housing) needs a royal commission around all their services," he said.
Harrison said the caucus, which acts as a conduit between the Aboriginal community and the justice system, was firm in its view on the need for a close examination.
"We've been pretty adamant … I understand we've got child protection as part of this process here as well, but there needs to be the deep dive right through their systems."
He told Yoorrook, which has the investigative powers of a royal commission, that Aboriginal children were being criminalised in the system, saying 93 percent were left with a criminal charge to their name.
"That's why we say there's got to be a lot of work done at that preventative stage but also the accountability back to those agencies around what are they actually doing for our kids," Harrison said.
"We don't want to be known as the largest criminalisation place in the world for locking our own mob up."
The Department of Families, Fairness and Housing were seeking to have Aboriginal minors charged for incidents such as breaking a window so they could claim insurance while child protection workers were using police as a weapon to keep kids in line, he said.
Koorie Youth Council deputy executive Bonnie Dukakis said Aboriginal children were increasingly having interactions with police at younger ages, and many had a history in out-of-home care.
"They've already experienced … a system that hasn't worked with them and hasn't listened to them or supported them," the Gunditjmara woman said.
Community legal service Westjustice's youth law program director Anoushka Jeronimus said a formal inquiry was needed into whether Victoria Police is racially profiling people.
"It's important for us to look into it," Jeronimus said.
Yoorrook is creating an official public record on the impact of colonisation on Aboriginal people in Victoria and will recommend actions to address historical and ongoing injustices.
The commission will turn its focus from child protection to Indigenous experiences in the state's justice system next week.
West Coast Eagles footballer Jamaine Jones and Aunty Sue Lovett, who took guardianship of the now AFL player from a Mildura group home when he was about 10, are expected to give evidence.