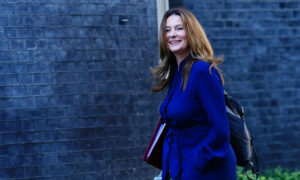 New guidance for schools on relationships and sex education could include age ratings to prevent children from "being taught contested and potentially damaging concepts," according to the Department of Education (DfE).
On Friday, Education Secretary Gillian Keegan said the review will "restore parents' confidence, and make sure children are even better protected."
Keegan also wrote to schools to remind them they are required by law to publish a relationships or a relationships and sex education (RSHE) policy and consult parents on it.
"I am deeply concerned about reports of inappropriate lessons being taught in schools," she said.
"This urgent review will get to the heart of how RSHE is currently taught and should be taught in the future.
"This will leave no room for any disturbing content, restore parents' confidence, and make sure children are even better protected."
The new guidance is expected to be released in the coming months, before the beginning of the next academic year, and will then be subject to public consultation.
On Thursday Prime Minister Rishi Sunak pledged that government guidance for schools in relation to transgender issues will be published "for the summer term."
Policy Exchange
The announcement comes the day after the conservative think tank Policy Exchange released its "Asleep at the Wheel" report written by research fellow Lottie Moore which claimed that children's safety is "compromised" over the spread of "extreme gender ideology" in most schools.
The report found out that most secondary schools are failing to tell parents if their child wants to identify as another gender.
Freedom of information (FoI) requests were submitted to 304 secondary schools in England in December last year, and 154 schools responded, either fully or in part, to questions asked by the think tank about gender policies.
The FoIs revealed that at least 28 percent of secondary schools are not maintaining single-sex toilets, and 19 percent are not maintaining single-sex changing rooms. It added that 60 percent of secondary schools are allowing children to participate in sports of the opposite sex.
It also found that schools are not reliably informing parents as soon as a pupil expresses the wish to change gender. This means that because of a school's "Self-ID" policy, the first time a parent is informed of their child's transition is on a letter home, where the child's new name is referenced.
Only 28 percent of parents are reliably informed when a child expresses feelings of gender distress at school.
New Guidance
In Policy Exchange's report, Conservative MP Miriam Cates said that the protection of children from "political indoctrination is foundational to a democratic society, and yet this report shows that we are currently failing to protect a whole generation of children from the destructive effects of extreme gender ideology."
Cates has previously highlighted that the RSHE framework has opened the "floodgates to a whole host of external providers who offer sex education materials to schools."
Labour MP Rosie Duffield, co-patron of Policy Exchange's Biology Matters Project, said the report "exposes the reality" that this ideology is widespread across secondary schools.
"This government has failed children by allowing partisan beliefs to become entrenched within the education system. Meanwhile, the opposition has failed to pull them up on it," she added.
Clear Safeguards
Announcing more details on the RSHE review, the government said on Friday that it is determined to make sure such teaching "leaves children equipped to make informed decisions about their health, wellbeing, and relationships, in a sensitive way that reflects their stage of development."
Schools have also been reminded they should provide all curriculum materials to parents and "stop entering into contracts that seek to prevent parents from seeing materials," the department added.
On Friday, the DfE confirmed the review "will be informed by an independent panel to be appointed over the coming weeks to provide external expertise."
It said the panel will "advise on how to put in place clear safeguards to stop pupils from being taught contested and potentially damaging concepts, including introducing age ratings setting out what is appropriate to be taught at what age, to prevent children being taught concepts they are too young to understand."
Keegan's comments were criticised by a school leader's union.
Geoff Barton, general secretary of the Association of School and College Leaders (ASCL), said the "vast majority" of schools teach RSHE "cautiously, sensitively, and in an age-appropriate manner" and insisted that claims made about inappropriate teaching are "overblown, sweeping, and supported by evidence which is flimsy at best."
"We sincerely hope the review that is due to take place will make recommendations around providing more and better-resourced training," he added.
PA Media contributed to this report.