At Least 5 Rockets Hit Iraq's Erbil Near US Embassy: Reports
At least five rockets fell in northern Iraq, hitting an area near a U.S. embassy in the city, Iraqi state news agency reported, quoting Erbil's governor.
Erbil is the capital city of the autonomous Kurdistan region of Iraq.
"No victims or casualties after Erbil blasts," Saman Barzanji, health minister in Iraq's Kurdistan Province, was cited as saying by state television.
Footage posted on social media shows at least five explosions in Erbil.
"Erbil is under fire … as if Kurds were not Iraqis," Iraqi Shi'ite Muslim cleric Moqtada al-Sadr said on Twitter.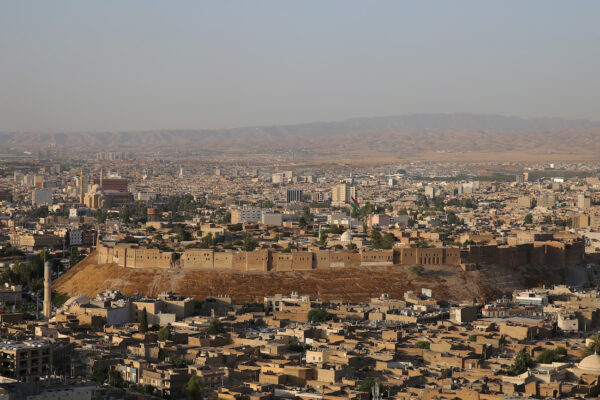 Sky News Arabia reported that five long-range ballistic missiles targeted the headquarters of a U.S. embassy currently under construction there.
According to the outlet, one of the missiles fell on the headquarters of the Kurdish satellite channel K24, which is affiliated with the President of the Kurdistan Regional Government of Iraq , Masrour Barzani. The building is near the U.S. embassy.
There was no immediate claim of responsibility. The motive behind the attack is also unclear.
"Seeing reports of Iran-backed attacks on the US consulate in Iraq," Lisa McClain (R-Mich.) said on Twitter. "This aggression shows we should absolutely end all Iran Nuclear Deal negotiations now. We must also never buy Iranian oil."
Fars News Agency, which is managed by Iranian Islamic Revolutionary Guard Corps (IRGC), appeared to link the firing of the missiles to the killing of Qassem Soleimani, the head of the IRGC-Quds Force, in 2020.
"Missiles hit the 'Israeli-American' bases at 01:20 local time; 'that's not a coincidence'. IRGC-QF chief Soleimani was killed in #Iraq on 7Jan20—01:20 Iraq time. #Iran," Fars News wrote in a Twitter post, per a translation via journalist Khosro Kalbasi.
Jason Brodsky, policy director at United Against Nuclear Iran, wrote on Twitter: "The Soleimani factor in the #Erbil attack tonight is important. Soleimani's birthday was on March 11, pro-IRGC media are boasting the attack tonight occured at same time of his death at 1:20 AM, the revenge attack on 01/08/20 also occured at 1:20 AM.
"And there are reports the Fateh-110s were used tonight, which also made a cameo appearance in the Soleimani revenge attack on U.S. forces in #Iraq on 01/08/2020. Would note #Iran has also launched Fateh-110s before on #Iraq, e.g. in September 2018 on KDPI HQ in Koya."
The Epoch Times has reached out to the State Department, the Pentagon, and the U.S. Consulate General Erbil for comment.
Melanie Sun and Reuters contributed to this report.
This story is breaking, check back for updates.