Australia Loses More Than $10 Billion a Year Over Financial Abuse
Approximately 600,000 Australians suffered from financial abuse in 2020, causing the victims and the economy to lose $5.7 billion (US$4.1 billion) and $5.2 billion, respectively, Deloitte research has found.
Over 400,000 women and nearly 200,000 men in Australia have experienced financial abuse. Additionally, the cumulative adverse effect of people being impeded from working themselves and those who later need support from government and social services comes with a heavy price tag of more than $10 billion a year for the economy and the victims.
The Commonwealth Bank of Australia (CBA), which commissioned Deloitte to conduct the research, tracked down tens of thousands of tiny transactions with value as little as one cent during a three-month period and found the messages accompanying those transactions disturbing.
CBA's artificial intelligence detected around 100,000 transactions with abusive languages over three months, and narrowed them down to find out 200 individuals potentially committing serious abuses.
"It shows you just how insidious, and unfortunately how creative people who really want to control individuals can be, and how alert we all have to be," Commonwealth Bank human resources executive Sian Lewis says.
The bank is starting its next chapter of tackling financial abuse, which is often an early sign of family and domestic violence.
Financial abuse can take many shapes and forms. For example, culprits can preclude their partners from working, not contribute to household finances, hold back funds used to pay for necessities, or secretly apply for loans in their partner's name.
Matt Comyn, the CEO of Commonwealth Bank, admitted that when he started his banking career, he did not expect to be involved in social services one day.
"It's changed quite dramatically," he told AAP on Feb. 23.
"But as has people's understanding of the scale, nature and impact … clearly we have a direct obligation to serve, not just our customers but the broader community, particularly when we see financial abuse."
This explains why no matter what bank they are with, people can still use some of the services being introduced by the CBA.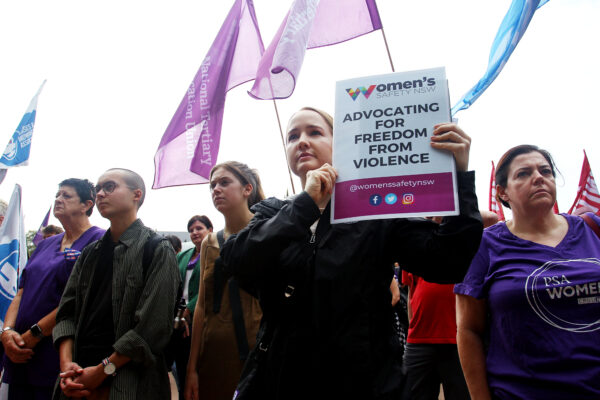 The bank has partnered with support service Good Shepherd to provide access to a financial independence hub, which was designed to support and give advice to people escaping situations where someone is financially controlling, tracking, or abusing them.
In particular, the hub not only can provide one-on-one financial counselling services and advice, but it can also recommend people to other types of support services or help them get access to things such as loans without interest.
"Services in this area are very fragmented and sometimes incredibly difficult [to access] when people are not at their best," Lewis said.
Comyn said that for banks that attempt to address a social issue such as financial abuse, the real power came from the connections and supports they could give to organisations working in the field.
"We're not the experts, but we can certainly bring resources and capacity and preparedness, and really be able to leverage some of the partners that are available in the country," he said.
In addition, the CBA has also entered into a partnership with women's leadership and mentoring network Future Women to produce a series of ten podcasts titled "There's No Place Like Home" to raise awareness about different types of financial abuse.
Meanwhile, through its research, Deloitte found out that financial abuse had severe impacts on the victims and society despite not many people talking about it.
"Little is discussed about financial abuse in Australian society," Deloitte behavioural economist Wing Hsieh told AAP.
"The challenges of domestic and family violence have been very much at the forefront of people's minds and particularly so in recent years."
However, people usually do not discuss the specific financial abuse that often results in the two types of violence above.