Australian Authorities Considers Food Ban to Prevent Foot and Mouth Disease
Australian officials are considering the possibility of completely banning travellers from bringing food from Indonesia into the country amid increasing concerns about an outbreak of foot and mouth disease (FMD).
Agriculture officials told a Senate inquiry into Australia's response to the outbreak in Indonesia on Aug. 10 that it was feasible to implement a total ban if the situation worsened.
At present, travellers arriving from Indonesia are already prohibited from bringing meat products into Australia. They also have to declare any food items in their luggage.
Speaking to the Senate inquiry, agriculture department secretary Andrew Metcalfe said the FMD situation was constantly changing.
"There have been significant actions taken in relation to food being imported from Indonesia since the outbreak occurred, and many more categories of food unable to be imported," he said.
"We are constantly reviewing the risk factors associated with any food imports and making changes accordingly."
The inquiry was told that if FMD spread to Australia, there would be a significant impact on animal-based export products.
Government Response to FMD
Metcalfe's comments came after the federal government announced a $14 million (US$9.73 million) biosecurity package to strengthen frontline measures in July.
The spending included funding for 18 new biosecurity officers at airports and mail centres. However, the new officers will not start working until the end of September, and the government currently hires 45 contractors to fill the workforce gaps.
In addition, the inquire was told that detector dogs had been stationed at all airports receiving flights from Indonesia, except for Adelaide, where they would be deployed by the end of August.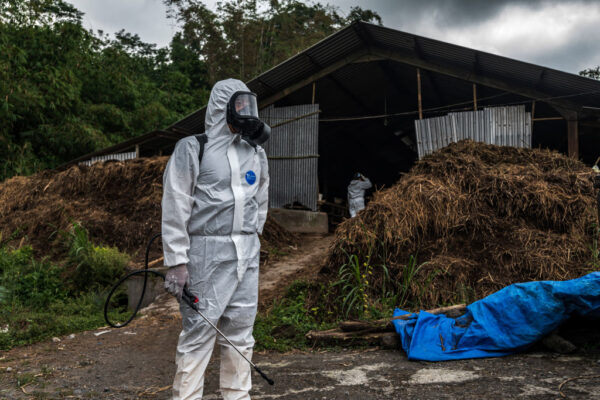 Meanwhile, the one million doses of vaccines that the Australian government promised to supply Indonesia is set to arrive later in August.
Metcalfe also noted that the agriculture department had not discussed with other departments the possibility of closing the border with Indonesia to prevent FMD.
Regarding the government's response to the contagious disease, the agriculture department said it received advice on FMD on May 6, which was during the caretaker period before the federal election.
Metcalfe told the inquiry that former agriculture minister David Littleproud and his then-opposition counterpart were fully briefed about the issue.
However, Littleproud did not ask the agriculture department to purchase more vaccines or foot mats to prevent the disease in Australia.
At the same time, the inquiry was informed that the risk of FMD entering Australia in the next five years had jumped to 11.6 percent after an outbreak occurred in Bali in July.