Australian City Hits 200 Days of Lockdown Since Beginning of Pandemic
The state of Victoria hit a new milestone on Aug. 19, with its residents spending 200 days under lockdown since the beginning of the pandemic in 2020.
The lockdown has taken a mental and commercial toll on the state.
"The frustration and the fatigue is showing," Tony Bartone, the former president of the Australian Medical Association president told the Today on Aug. 18.
"It is a really precarious time, and the next week or so will dictate that," he said.
"We have seen a stubborn bunch of days with 20-plus cases and almost half of those cases infectious in the community.
Authorities in Victoria have extended the state's sixth lockdown by another two weeks after the initial lockdown—which began on Aug. 4—failed to quash an emergence of COVID-19 infections.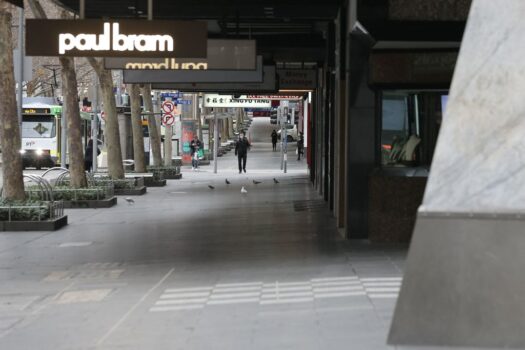 Victorian Opposition State Member of Parliament James Newsbury has also pointed to the rising mental health toll from the lockdowns.
"Today, there are 12 Victorians in hospital with COVID—2 in ICU," he wrote on Twitter.
"This week, 148 teenagers will be rushed to hospital after self-harming and suffering suicidal thoughts … The mental health shadow pandemic is real."
In recent weeks, several notable cases of public health order breaches have emerged, including 69 individuals coming together for an engagement party—a move that attracted a massive $350,000 in fines.
Ian Hickie of the University of Sydney's Brain and Mind Centre said Melbournians were suffering under a "prolonged chronic stress situation" due to ongoing lockdowns.
"In the face of what appears to be ineffective government action and confusion … people don't want to remain helpless and tired," he told ABC.
"They act to feel better, and they act in ways they believe are appropriate. They believe they are low risk, and they are doing things that actually help them to get by."
Australian state leaders have adopted tough measures to deal with small outbreaks of COVID-19; these efforts have ramped up in recent months to contend with the newer, more viral Delta strain of the virus.
Australia and New Zealand have enjoyed relatively low infection and death rates from COVID-19 by global standards; this—along with public support for tough measures—has motivated state leaders to use lockdowns and restrictions readily.
The Victorian capital, Melbourne, has taken a battering due to extended lockdowns, with its commercial office market recording its lowest demand levels since the 1990s.
In contrast, demand for office space across other capital cities has remained steady.
"While office markets have shown pleasing resilience, challenges remain. Lockdowns continue, and the impacts of the pandemic are still working through the economy, so CBD recovery needs to be a priority for governments at all levels," Ken Morrison, CEO of the Property Council of Australia, said in a statement.