Australian PM Rejects Diplomacy With Beijing, Concerned About China-Solomon Islands Security Pact
Australian Prime Minister Scott Morrison has rejected the possibility of meeting with China's ambassador Xiao Qian, a move he said would be a sign of "weakness."
Speaking to reporters on Saturday, Morrison described his decision as "an entirely proportional response" after Beijing "completely blocked any minister-to-minister dialogue."
"That would be a demonstration of weakness and I can assure you as prime minister, that's the last message I'd ever send to China."
"[Until] that block is removed by China, well, I think Australians would see it as very inappropriate for me to engage in that dialogue with an ambassador."
His comment comes on the back of the Chinese communist regime coining a military pact with the Solomon Islands, allowing Chinese security and naval deployments to the nation, which is within 1,700 kilometres (1,050 miles) of Australia's northern city of Cairns. The Solomon Islands government on Friday defended the proposal as a "needed" move to "improve the quality of lives of our people and address soft and hard security threats facing the country."
The security deal has triggered geopolitical anxieties for Australia and its allies, which are wary of communist China's expansionist footprint in the region.
"There is great concern across the Pacific family because we are in constant with our Pacific family," Morrison told reporters on Saturday.
However, the prime minister indicated that his government would not step in because "these are the decisions of sovereign governments" and that despite the archipelago's new pact with Beijing, Australia would "continue to be there on the ground" to support Solomon Islands' security and stability.
"It was when the Solomon Islands recently went into a time of crisis, the first place the Solomon Islands called was Australia. And we sent in our defence forces and our police, and they're still there and we have committed to them being there till the end of 2023," he said.
In 2019, Morrison announced a A$2 billion ($1.5 billion) infrastructure financing fund to the Pacific islands amid concerns that Beijing was growing its influence in the region through cheap concessional loans. In 2018, Australia supplanted Chinese Huawei to build an underwater telecommunication cable network connecting remote Solomon Islands communities to Honiara.
Solomon Islands prime minister Manasseh Sogavare severed its longstanding ties with Taiwan and aligned itself with Beijing in 2019, fuelling public outrage. The move has reportedly a factor that led to unrest in Honiara in November 2021, Solomon Islands' capital, prompting Australia to deploy its peacekeeping force to the Pacific Islands.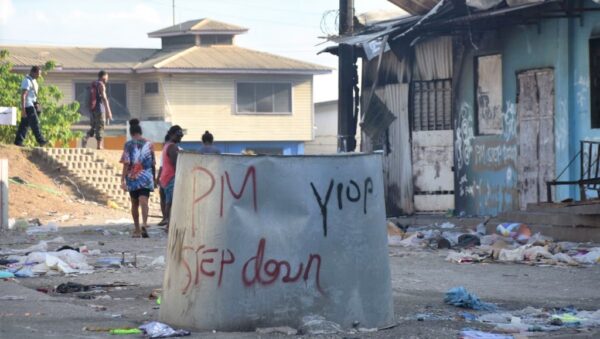 A U.S. State Department spokesperson said the draft security agreement and the police deal did not address the underlying issues that contributed to the deadly riots.
"We do not believe [People's Republic of China] security forces and their methods need to be exported," the spokesperson added.
"This would only fuel local, regional, and international concerns over Beijing's unilateral expansion of its internal security apparatus to the Pacific."
AAP contributed to this report.