Australian Soldiers to Patrol State Border to Stop People From Entering Capital
Soldiers will be deployed to patrol state borders within Australia in a bid to stop people from coming into the country's capital territory amid the prolonged response to a CCP virus Delta variant outbreak in the state of New South Wales.
The Australian Capital Territory (ACT) is bounded on all sides by NSW and is home to Canberra, the country's capital city.
ACT Chief Minister Andrew Barr said the Australia Defence Force would be used for the first time along the border after a massive joint ACT and NSW police compliance operation at four major entry points had stopped over 4,000 vehicles and turned around 12 cars trying to enter the territory.
"There will be boots on the ground," Barr told reporters on Friday, going on to say this had been planned for weeks.
Saturday also marks the start of school holidays, a popular time for ACT families to enjoy vacations on the NSW coast, therefore additional police patrols will be arranged at major entry points to the ACT to prevent such travel, deemed illegal under public health orders.
"With school holidays commencing tomorrow it is a timely reminder that you cannot travel anywhere for a holiday," Barr said. "You cannot leave the ACT unless you have an essential reason."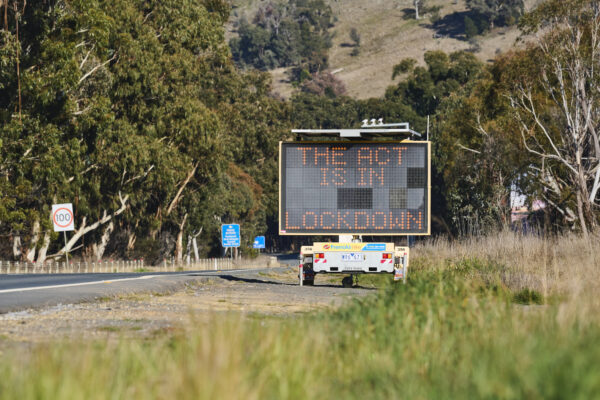 The troop deployment comes in response to Friday's report of 30 new cases of COVID-19, the disease caused by the CCP (Chinese Communist Party) virus, on Friday.
There currently has 245 active cases in the ACT after 341 cases recovered. There are eight cases being treated in hospitals and one in an intensive care unit requiring ventilation. The ACT government did not report whether there were co-morbidities contributing to the need for any of the hospitalisations.
The 30 new cases is the highest daily tally for the ACT. The jurisdiction's Chief Health Officer Kerryn Coleman said that figure did not indicate an upward trend.
Meanwhile, in a post on Facebook, Barr reminded ACT residents that they may only travel to and from approved NSW border postcodes.
The only reasons ACT residents may cross the border into NSW are for either: essential work, childcare for essential workers, medical or healthcare needs, visiting a romantic partner where the two people don't live together, providing urgent compassionate care or help to a vulnerable person, and essential animal welfare purposes.
NSW, Victoria, and the ACT currently have lockdown measures in place to suppress the spread of the CCP virus. Each of their leaders has said they will not lift restrictions until at least 70-80 percent of their residents have been fully vaccinated.
ACT Health said more than 80 percent of Canberrans aged over 16 have received at least their first vaccine dose, making it the second jurisdiction after NSW to reach the figure.
Health figures also showed more than 55 percent of over-16s in the ACT are fully vaccinated, which is the highest of any state or territory.
Over 52 percent of ACT residents who are 12 and older have received two doses.
Federal Health Minister Greg Hunt told reporters on Friday that ACT hospitals were well prepared to handle a potential rise in COVID-19-related admissions, should there be a surge in cases once lockdown restrictions are eased.