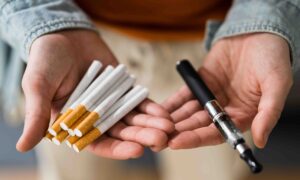 Pandemic public measures such as lockdown may have made it harder for Australians wanting to quit smoking and even led people to resort to smoking as a way to reduce stress during the early stages of COVID-19.
That is the speculation of a group of researchers from the University of Queensland's Queensland Alliance for Environmental Health Sciences (QAEHS).
In a new study published on March 9, the researchers found that nicotine consumption in the first half of 2020 rose significantly (30 percent) compared to the second half of 2019.
"This increase coincides with Australia's first wave of COVID-19 cases, which saw the implementation of public health policies such as lockdowns, social distancing and working from home," said lead author Phong Thai, the Associate Professor from the QAEHS.
"These changes could have increased nicotine consumption due to people managing higher stress levels, as well as greater opportunities to smoke or vape whilst working from home."
The authors argued in the research paper that the social and economic changes, such as movement restrictions and job losses, have increased mental health issues, which may have hampered motivation to quit smoking or quit self-efficacy and increased relapse to smoking among people who recently quit.
The study analysed data from the National Wastewater Drug Monitoring Program and was published in the Nicotine & Tobacco Research.
Thai noted that tobacco and nicotine consumption had been sliding downward prior to 2020, but the pandemic may have "temporarily disrupted this trend."
Co-author Ben Tasharke from QAEHS said when faced with extreme stress, people may "resort to things like smoking to try and alleviate their anxiety."
"As smoking can cause higher morbidity and mortality risks than COVID-19 in Australia, it is important to maintain progress in reducing smoking by supporting quit efforts."
Australians' Mental Health Hit Hard by Pandemic
The latest findings come as mental health and suicide prevention hotline Lifeline Australia said it has "smashed" its previous record for the highest volume of calls ever on Aug. 20.
Lifeline Australia revealed that it received 3,505 calls in a 24-hour period, surpassing the previous record of 3,436 calls on Aug. 16.
In 2019, Lifeline Australia was averaging under 2,500 calls per day. However, average demand has increased 20 percent since then, with peak periods seeing a 40 percent increase.
John Brogden, chair of the organisation, said August 2022 had been one of the busiest periods in its history.
Pandemic's Link To Alcohol Spending
Meanwhile, studies have also shown that pandemic restrictions led to higher spending on alcohol consumption.
The Australian National University noted in a May 2020 report that 20 percent of Australians reported buying more alcohol than usual since the COVID-19 outbreak, but this pattern is not sustained.
However, a study published in The Lancet in August 2020 found that lockdown "causes different behavioural changes on alcohol intake," with about 20 percent of people in the UK increasing or decreasing their normal alcohol consumption.
"Although psychosocial distress has been well recognised as a risk of relapse and increased alcohol consumption, the reduction might be associated with decreased financial ability and the decreased availability of on-site alcohol areas (eg, pubs or bars)," the study said.