Australia's National Cabinet Agrees to Expand Close Contact Isolation Rule Exemption List
Australian Prime Minister Scott Morrison announced, following the national cabinet meeting, that close contact isolation rules changes will be expanded to help ease supply chain issues and keep the economy running.
The earlier changes that allowed food and grocery workers identified as close contacts to return to work with a negative test result for COVID-19 has been expanded to all freight, transport, and logistics employees, including workers at service stations.
It has also been extended to healthcare and support, emergency services, water and waste management, education and childcare, and other critical goods suppliers.
"The goal is not to stop everyone in the country from getting COVID. The goal was to protect our hospitals and keep our society and economy functioning as we ride this latest wave of Omicron," Morrison told reporters, emphasising that it was unrealistic for governments across the country to prevent everyone from being infected with the CCP virus.
Chief Medical Officer Paul Kelly told reporters that around half of all COVID-19 infections in Australia since the start of the pandemic had occurred this year, or in other words, in the last fortnight.
Businesses across Australia have been crippled by a large number of staff in isolation due to close contact rules.
It has left customers facing empty shelves in supermarkets, while others have been unable to receive their favourite fast food order.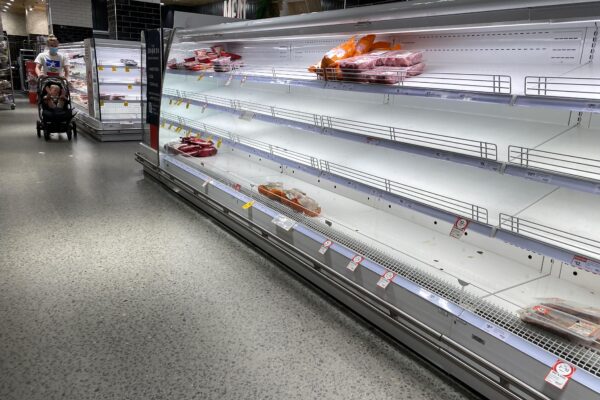 The Australian Industry Group welcomed the decision, stating it will help alleviate shortages faced by customers and the stresses on businesses facing staffing issues.
"The decision to include all transport, freight and logistics workers … is welcome recognition of the interconnectedness of our supply chains and the importance of keeping goods moving across the country in order to secure supply to Australia's households and businesses," Ai Group CEO Innes Willox told The Epoch Times in a statement.
However, Willox wanted consideration of further concessions in removing visa working hours, such as allowing temporary skilled 482 visa holders to work for a second employer for sectors in critical need of labour.
"We need to deal with the pressures on hospitals and protect the community, and we also need to keep our economy going," he said.
The treasury secretary had informed the national cabinet that the economy could be looking at up to a 10 percent absenteeism from the workforce from any one time due to Omicron. Closed schools also add an additional 5 percent of absenteeism.
"The first principle is that childcare and schools are essential and should be first to open and last to close wherever possible and face-to-face learning prioritised," Morrison said, noting that Queensland and South Australia, states which have delayed school reopening by two weeks, will allow children of essential workers to attend school during that time.