B.C. Records Deadliest February yet for Illicit Drug Overdose Deaths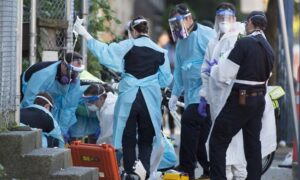 VICTORIA—Another record death toll for overdoses in British Columbia shows this isn't just a big-city problem and it must be addressed in every community in the province, Premier John Horgan said Wednesday.
The B.C. Coroners Service reported the province's deadliest February yet for illicit drug overdoses with 155 lives lost last month.
It's the 11th consecutive month in which B.C. has recorded more than 100 fatalities, says chief coroner Lisa Lapointe in a news release.
She says the number of deaths highlights the ongoing critical risk to public health and safety from the illicit drug market.
The latest overdose statistics sparked debate in the legislature, with the Opposition Liberals demanding the government take vigorous action in next month's budget to address mental health and addiction services.
"The loss of 155 lives in February represents a 107 percent increase over the same month in 2020," said interim Liberal Leader Shirley Bond. "This is a situation that continues to get worse. It's taking people from all age groups and economic situations."
She called on Horgan to take measures to prevent the deaths.
"Perhaps the premier can step up and tell us what specific steps he is taking to ensure that next month and the month after that and the month after that, we are not having the same conversation."
B.C. was making progress reducing the number of overdose deaths in 2019, but the arrival of the pandemic has seen deaths increase as the illicit supply grows more toxic and many people are using alone, Horgan said.
"This is not a downtown Vancouver issue, it's a B.C. issue," he said. "It's our problem. It's our brothers, our sisters, our moms and dads."
The coroners service says the February statistics make last month the second consecutive month in which the average number of daily deaths was above five.
It says 15 percent of people who died so far this year were over the age of 60, while 40 percent were over 50, continuing a trend that has been seen in older age groups in recent years.
The service says increased variability and toxicity in the drug supply continues to significantly contribute to the overall number of suspected deaths.
Carfentanil, a more lethal analogue of fentanyl, was detected in 18 of the 155 deaths, an increase from the January total and the largest monthly figure recorded since April 2019.