Trying in vain to block a scheduled speech in Canberra by the leader of the Tibetan Government-in-Exile, Beijing is accused of undermining freedom of expression in Australia.
At the invitation of the National Press Club, Penpa Tsering, the president of the Tibetan Government-in-Exile, will deliver a speech titled "Resolving Sino-Tibet conflict and securing peace in the region" on June 20.
Speeches made at National Press Club are broadcast on the Australian Broadcasting Corporation (ABC) and are usually attended by senior members of the federal parliamentary press gallery.
Last week, Chinese embassy officials expressed their displeasure in a meeting with Maurice Reilly, the chief executive of the National Press Club, and demanded to rescind its invitation to the Tibetan leader.
"China expresses strong dissatisfaction and firm opposition to Australia, in disregard of China's position and concern, allowing him to use the NPC platform to engage in separatist activities," the embassy said in a letter to Reilly seen by Sydney Morning Herald.
"People of all ethnic groups in the Xizang [the Chinese communist regime's preferred name of Tibet] Autonomous Region endorse wholeheartedly the policies of China's central government and the regional government … It is a fact acknowledged by unbiased people that the human rights situation in Xizang is at its best in history."
This contradicts what Tsering will say in Canberra.
"China's colonial project in Tibet has entered an alarming new phase, leaving Tibet's unique cultural identity, and future, hanging in the balance," reads the introduction of the speech.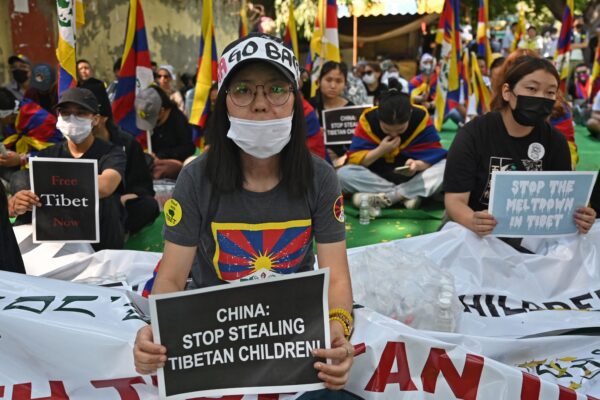 "Reminiscent of Australia's Stolen Generations, nearly one million children, comprising 80 percent of children in Tibet, have been reportedly separated from their families and forced into a vast network of Chinese colonial boarding schools, which U.N. rights experts have warned is an effort to assimilate Tibetans into the majority Han culture. Tibetans call it a 'cultural genocide'."
"As Australia and China got richer together in the last three decades, human rights in Tibet have continued to worsen."
Also known as the Central Tibetan Administration (CTA), the Tibetan Government-in-Exile is based in India. The position of president, or sikyong, of the government was established in 2011 when the spiritual leader Dalai Lama gave up his political leadership and handed power to a democratically elected leader.
National Press Club Declined Chinese Embassy's Request  
Reilly said there were no plans to cancel Tsering's speech, tickets for which were already on sale on the club's website.
"I explained to them that the board of the National Press Club decides on who speaks at our forum, and its decisions are independent of governments or other stakeholders," he said.
"I also explained that speakers can put their views and that our media members can ask questions and challenge those views as they see fit."
Both Lobsang Sangay, Tsering's predecessor and China's ambassador to Australia, Xiao Qian spoke at National Press Club before.
In 2013, Sydney University, one of Australia's most prestigious universities, cancelled Dalai Lama's visit to avoid damaging ties with Beijing.
Australians Calls on Government to Use Magnitsky-Style Sanctions on China
The Chinese Communist Party (CCP)'s pressuring an iconic Canberra venue has triggered harsh criticism from the local community.
Tsundu Oser, president of the Regional Tibetan Youth Congress in Sydney, warned Australian politicians to be wary of the CCP's foreign interference.
"If you let them control your rights and power, one day they will control even Australia Parliament house meetings," he told The Epoch Times.
"Don't lose your democratic country under CCP rules. CCP is already controlling all mainland cities in Australia, I hope you knew this already."
Dr Zoë Bedford, the executive officer for Australia Tibet Council, joined in condemning.
"It's a shame that they [CCP officials] have done that," she said. "We're quite sure that the National Press Club won't cancel the address because, of course, they have a commitment to freedom of media, free press, and free speech."
Bedford, an Australian herself, called on the Australian government to use its Magnitsky-style act to sanction CCP officials who are responsible for human rights violations in Tibet, just as the United States has done.
"The U.S. last year on human rights days, Dec. 10, they put Magnitsky sanctions on two CCP officials for their human rights violations in Tibet… Whereas we don't have any here in Australia yet."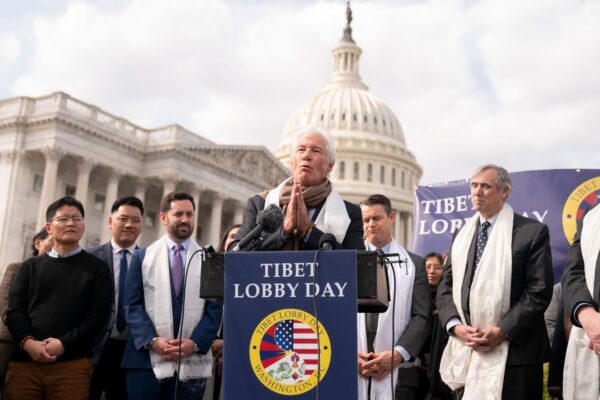 Australia passed the Autonomous Sanctions Amendment (Magnitsky-style and Other Thematic Sanctions) Act in December 2021 and first used these sanctions in March 2022 on 14 Russians.
"Australia needs to stand up for that and impose Magnitsky sanctions on the acts of the policies of taking children away from their family," Bedford said.
"It's just important for countries around the world to put China on notice that they know these plans are in place, it's not a secret."
"The Australian Government needs to join the U.S. government and make it clear that they will not stand by and let this happen in the future."
The Epoch Times has reached out to the Chinese embassy for comment but has not received a reply at the time of publication.