Beijing Objects to Vancouver's Plan to Form Partnership With Taiwanese City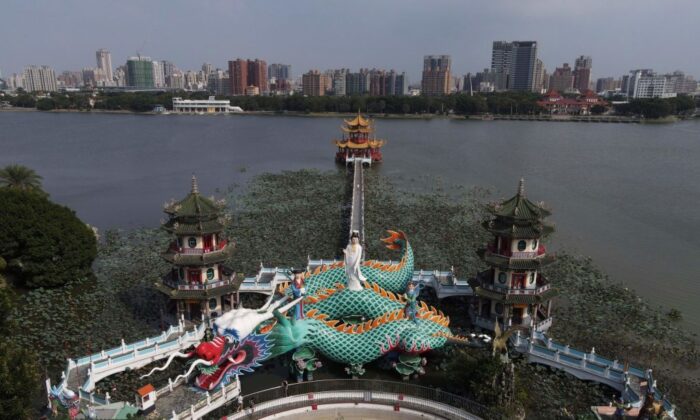 An aerial view shows Spring and Autumn pavilions at the Lotus pond in Zuoying District in Kaohsiung, Taiwan, on Oct. 16, 2020. (Sam Yeh/AFP via Getty Images)
Beijing is objecting to the City of Vancouver's plan to form a special relationship with the City of Kaohsiung in Taiwan, as the communist regime continues to isolate the democratic island nation on the international stage. 
In September, Vancouver City Council adopted a motion proposed by Mayor Kennedy Stewart to form a Friendship City Program, a less expensive option for fostering ties with foreign municipalities than the traditional Sister Cities International program.
Stewart later approached members of the Taiwanese community in Vancouver, who recommended the City of Kaohsiung in southern Taiwan.
The Chinese regime, which has long considered Taiwan to be a breakaway province although it has never had any official control over the self-ruled nation, condemned the Friendship City Program idea.

The Chinese Consulate in Vancouver issued a statement on Nov. 9 saying the city's proposal to partner with Kaohsiung is an "official interaction" with Taiwan that it "firmly" opposes. 
"If the City of Vancouver establishes sister cities, friendship cities, or partner cities with Taiwan in the form of official authorization, city council approval, or official exchange of documents, they will all be considered as official exchanges with Taiwan, which are all part of the official interaction mechanism. We are firmly opposed to this," the statement said.

The statement said Canada has a "duty" to abide by the "One China policy"—the regime's insistence that there is only one sovereign state under the name of China and that Taiwan is part of the People's Republic of China. 
The "One China Principle" is different from the "One China Policy" adopted by Canada and many western countries. While Canada acknowledges the People's Republic of China as the sole legitimate government of China and does not recognize Taiwan as a sovereign state, it merely "took note" of the authoritarian regime's claim over the island.  
The the Globe and Mail reported on Nov. 12 that Stewart's communications director Alvin Singh said the Friendship City Program is not designed to be an official exchange with foreign municipalities, and suggested that a city in mainland China could also be chosen for such a partnership. 
"This entire process is community driven, so if a community wants any city to be a friendship city and can demonstrate there is a group that wants this to happen, then it will happen," Singh said.
The mayor of Kaohsiung, Chen Chi-mai, said in the Chinese-language Vision Times that Taiwan is a sovereign state and any interference from Beijing in the city's diplomatic affairs will only antagonize its citizens. 
Vancouver currently has five sister-city relationships: Guangzhou in China, Odessa in Ukraine, Yokohama in Japan, Edinburgh in Scotland, and Los Angeles in the United States.