A crowd of protesters broke through a security blockade and breached the Congress building in Brasilia on Jan. 8, according to videos from local broadcasters groups related to Brazil's former president, Jair Bolsonaro.
Protesters also breached the parking lots of the Planalto Palace, Brazil's equivalent of the White House, according to CNN Brasil. Recently-inaugurated President Luiz Inacio Lula Silva was on a trip to San Paulo, Brazil's most populous state.
Footage and photographs from the scene showed protesters inside the presidential palace and smashing furniture in Congress and the Supreme Court.
Mass protests have persisted in Brazile since the outcome of the national election on Oct. 30 last year. Bolsonaro's supporters doubt the authenticity of the results. They blockaded major roads across Brazil and demanded that the military step in to intervene.
Bolsonaro cast doubt on Brazil's electronic voting system prior to the election. Lula was declared the winner with 50.9 percent of the vote. Bolsonaro has not publicly conceded, but said in a speech in November that he would abide by the country's constitution.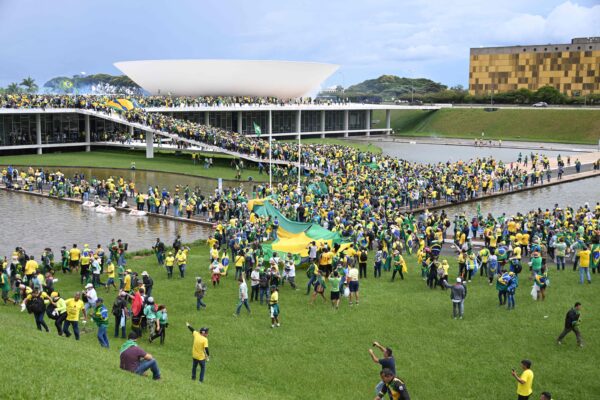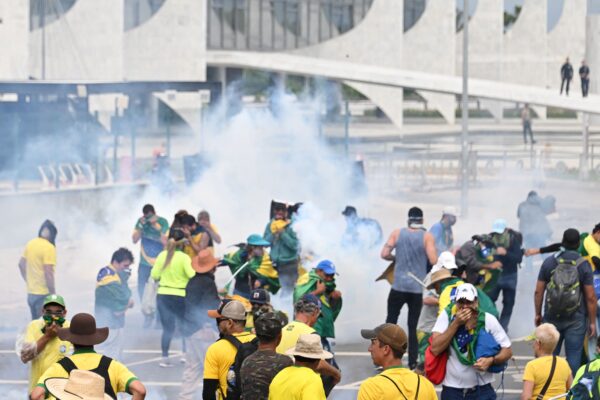 Bolsonaro left Brazil for Florida two days prior to the end of his term. In Twitter messages hours prior to the reports of the breach in Brasilia, he wrote about the achievements of his administration.
A video clip from the scene in Brazil shows people, many draped in the nation's green and yellow flag, flooding across a green lawn toward the National Congress building.
In one video, protesters are seen bashing the windows of the National Congress lobby with a metal barricade and a concrete paver. A video from inside the Congress building showed a stream of people walking across broken glass with chants from the crowd outside echoing in the halls. One recording shows fire a sprinkler jetting water and documents scattered across the wet floor in the Congress.
Another clip showed protesters beating a mounted police officer with sticks and dragging him off his horse.
Aside from a handful of protesters engaged in vandalism, the crowds in the footage appeared mostly peaceful. The scene was reminiscent of the Jan. 6, 2021, events in Washington, D.C., where a crowd of supporters of former President Donald Trump clashed with police and briefly breached the Capitol.
Lula's Workers Party asked the office of the top public prosecutor to order police to contain the protesters.
Some Bolsonaro supporters have camped outside military barracks since his defeat and have called for the military to step in.
This is a developing story. Check back for updates.
Reuters contributed to this report.