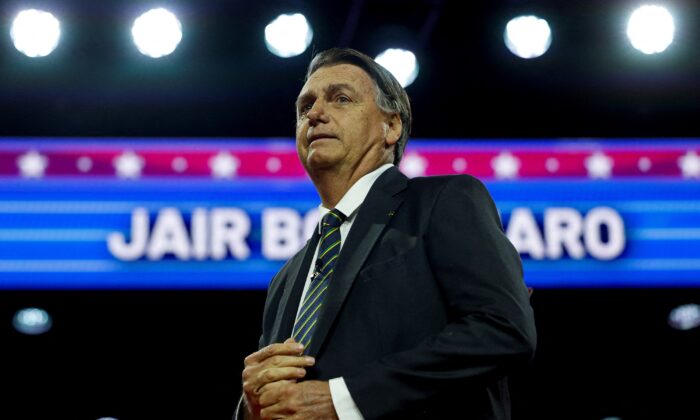 Jair Bolsonaro, former President of Brazil, arrives to speak at the Conservative Political Action Conference (CPAC) at Gaylord National Convention Center in National Harbor, Md., on March 4, 2023. (Evelyn Hockstein/Reuters)
Former Brazilian President Jair Bolsonaro will return to Brazil on March 30, his party confirmed via social media on Friday, following more than three months of visit to the United States after losing his reelection bid.
Bolsonaro's return to Brazil is eagerly awaited by his conservative Liberal Party (PL), which became the largest in the Brazilian Congress after the election last October.
"Our national president, Valdemar Costa Neto, confirms to everyone that Jair Bolsonaro will return to Brazil on March 30. Bolsonaro will disembark in Brasilia at 7:30 a.m.," the Liberal Party said on social media.
Bolsonaro traveled to the United States on Dec. 30, just two days before the inauguration of President Luiz Inacio Lula da Silva, skipping the traditional ritual of passing the presidential sash to his successor.
Costa Neto has said he expects Bolsonaro to become the leader of the right-wing opposition to leftist President Lula and lead his party into municipal elections next year, where the PL hopes to triple the number of its mayors across Brazil.
Bolsonaro was losing his political capital by staying in Florida and should come back to lead the 58 million Brazilians who voted for him in an election narrowly won by Lula, Costa Neto had suggested.
An effective opposition could lay the ground for a right-wing comeback in the 2026 presidential election, PL officials have told Reuters.