A bill intended to crackdown on illegal immigration in the English Channel has cleared its first hurdle in the House of Commons.
On Monday, MPs voted 312 to 250, majority 62, to give the Illegal Migration Bill a second reading.
According to government figures, a record 45,755 illegal immigrants arrived in the UK after crossing the Channel in 2022. More than 3,000 have already made the journey this year.
The bill aims to ban anyone who arrives in the UK illegally from claiming asylum. If it becomes law, illegal entrants will be swiftly removed from the UK to their home country or a safe third country like Rwanda, and will be banned from reentry.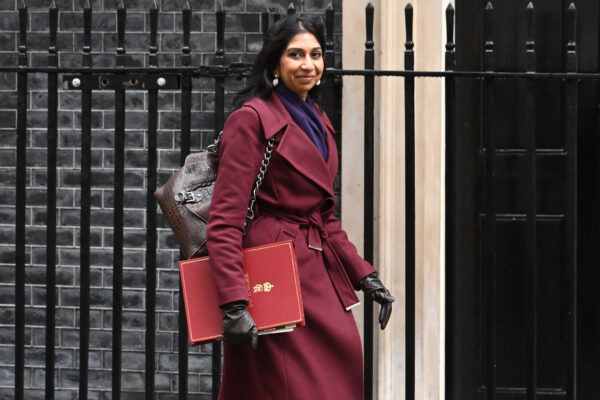 Opening the debate in the run-up of the vote, Home Secretary Suella Braverman told MPs that illegal immigrants have "overwhelmed" the UK's asylum system and put immense pressure on local authorities.
She said: "The British taxpayer cannot continue to fork out £6 million a day on hotels to house illegal arrivals. Now let's be honest, the vast majority of arrivals—74 percent in 2021—were adult males under the age of 40.
"The vast majority were not pregnant women, the vast majority were not young children. All travelled through safe countries, like France, in which they could and should have first claimed asylum. Many came directly from safe countries, like Albania.
"And when we tried to remove them, they turn our generous asylum against us to thwart removal."
Braverman said the existing system is "unfair on those who play by the rules" and "unfair on the British people."
The bill would enable powers to be granted to detain immigrants for 28 days without recourse for bail or judicial review, and then indefinitely for as long as there is a "reasonable prospect" of removal.
Challenges based on modern slavery laws would be barred, and any other legal attempt by the illegal immigrants to stay would be heard overseas, after they have been removed.
The bill will also introduce an annual cap, to be decided by Parliament, on the number of refugees the UK will offer sanctuary to through safe and legal routes.
'Makes the Chaos Worse'
The main opposition Labour Party voted against the bill, calling it "a con that makes the chaos worse."
Labour's shadow home secretary Yvette Cooper told the Commons: "We need urgent action to stop the dangerous boat crossings that are putting lives at risk and undermining our border security. But this bill is a con that makes the chaos worse."
She said the bill will "rip up" Britain's commitment to international law, and will "lock up children" and "remove support and safe refuges from women who have been trafficked."
Cooper also said the ban on challenges based on "modern slavery" laws will encourage rather than discourage people traffickers.
Calling the bill a "traffickers' charter," she said: "The message from the UK government to the criminal trafficking and slavery gangs is this: 'Don't worry, so long as you bring people into the country illegally, we won't help them. In fact, we will help you.'
"That is their message to the criminal gangs: 'We will threaten those people with immediate detention and deportation so that you can increase your control over those trafficking victims.'"
'Modern Slavery' Concerns
Labour's concerns over "modern slavery" protections were shared by some Conservative MPs, including former Prime Minister Theresa May.
May warned modern slavery victims will be "collateral damage" and have the door shut on them by measures within the bill.
She said she is expecting to hold further talks with Downing Street to resolve the issues and also noted how, when home secretary, she took action to respond to people jumping in the back of lorries and cars in a bid to get into the UK.
May said: "But what should be clear from this is whenever you close a route, the migrants and the people smugglers find another way, and anybody who thinks that this bill will deal with the issue of illegal migration once and for all is wrong."
Sir Robert Buckland, a Conservative former justice secretary, warned the tone of some in his own party is "not appropriate" and said there was a danger of "ineffective authoritarianism" from parts of the bill, as he expressed "great concern" at the prospect of detaining children.
Closing the debate, Home Office minister Robert Jenrick said, "The government is committed to tackling the heinous crime of modern slavery and supporting victims, and it's for that reason that we want to prevent abuse."
But he added, "We have to defend the modern slavery architecture by reforming it and ensuring that it is not open to abuse."
Asked about May's comments, Prime Minister Rishi Sunak said: "You know, I'm confident that our bill represents the best way to grip this problem.
"I've also always been clear that there is no overnight, easy, one simple solution to what is a complicated problem. It will take lots of different interventions."
PA Media contributed to this report.