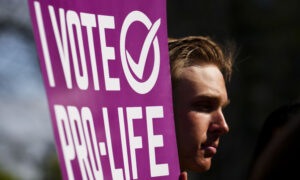 A Calgary bylaw now requires pro-life fliers showing images of aborted fetuses be enclosed in an opaque envelope with a warning of "graphic" content. The envelope must also be marked with the name and address of the sender.
"They don't want Calgarians to see abortion victim photography because it will cause too many people to realize that abortion involves the murder of a human child," said Jack Fonseca of national pro-life organization Campaign Life Coalition in a June 7 email to The Epoch Times.
"I hope this unjust censorship law will be challenged in court," he said.
A city staff report presented to the council ahead of its May 9 decision said that some Calgarians have reported feeling traumatized by the images on fliers delivered to their homes.
"Images of aborted fetuses can be deeply disturbing to some viewers and can trigger traumatic memories of a pregnancy termination or miscarriage, particularly among those who have experienced pregnancy loss multiple times. Impacts can include feelings of grief, guilt, or shame," the report said.
Richard Dur, executive director of Prolife Alberta says the fliers show the reality of abortion.
"The images are disturbing to any right-thinking person who sees them, because the images capture the disturbing reality of the act/consequences of abortion," Dur said in a June 7 email to The Epoch Times.
Prolife Alberta does not distribute such fliers itself, but Dur said these fliers play a role in showing Albertans what their tax dollars pay for, since abortions are publicly funded.
The city staff report notes the effect the images may have on children or pregnant women who see them.
"Viewing such images can also trigger fear and anxiety in those who are pregnant and can cause feelings of grief in children whose families have suffered pregnancy loss," it said.
Fonseca said he acknowledges there is a lot of debate around the use of these graphic images. "But the reality is they accurately show the victims," he said.
He recalled another situation in which gruesome pictures motivated positive change.
A black 14-year-old named Emmett Till was kidnapped, tortured, and lynched in Mississippi in 1955. His mother held an open-casket funeral to publicize the image of his brutalized body.
"When regular Americans, and the rest of the world, saw photos of the horrific violence that had been done to the child's body, they finally saw the truth about racism, and demanded civil rights for African-Americans," Fonseca said.
"What if a censorship law had been put in place in 1955 to prevent his mother from showing the world the evil of segregationist racism, through those graphic images?" he said.
The city's staff report discusses free speech, but says the city has the authority to place limits on it "in appropriate circumstances, where The City can provide a proper justification for doing so."
The report said the bylaw amendments "introduce reasonable limits that uphold the right of interest groups to exercise their freedom of expression while balancing the right of people to avoid harm."
All nine Calgary city councillors voted in favour of the bylaw amendments on May 9. A breach of the three requirements (envelope, graphic content warning, and name and address of sender) comes with a $1,000 fine for each.
London, Ontario, passed a similar motion in 2022. A group called Viewer Discretion Legislation Coalition helped motivate that action, as with the one in Calgary. The group brought its concerns to Calgary City Councillor Jennifer Wyness, who brought the motion to the council.
Bill 80, regarding graphic images of fetuses, is now working its way through Ontario's Legislature.
In 2021, 87,307 abortions took place in Canada, according to the most recent statistics released by the Canadian Institute for Health Information.
"If the images are 'too graphic' for public consumption then perhaps the act of abortion, which brings about these horrific images in the first place, ought itself to be regulated/outlawed," said Dur. He noted that minors do not require the consent of their parents to get an abortion in Alberta, and so it is important for Albertans of all ages to "understand the reality of abortion."