PHNOM PENH—Prominent Cambodian opposition figure Kem Sokha was sentenced on Friday to 27 years of house arrest after being found guilty of treason, in a case condemned by the United States as politically motivated.
Judge Koy Sao also told the court in the capital, Phnom Penh, that Kem Sokha would be barred from running for political office or voting in elections.
He was arrested in 2017 over accusations he was conspiring with the United States to overthrow self-styled strongman Hun Sen, who has ruled Cambodia for nearly four decades.
Kem Sokha, who headed the now-disbanded Cambodia National Rescue Party (CNRP), had denied the charges and Washington dismissed the allegations as "fabricated conspiracy theories."
His lawyer said Kem Sokha's legal team would appeal the verdict.
"He's in house arrest, all of his political and citizens' rights are completely stripped … This is not justice," said Ang Udom, who said his client would only be allowed contact with family members.
There was tight security around the court, with hundreds of police officers deployed in trucks.
W. Patrick Murphy, the U.S. ambassador to Cambodia, said the case was a miscarriage of justice.
"We call on authorities to allow all Cambodians to enjoy … universal human rights of peaceful assembly and free expression and to participate in building a truly democratic system," he told reporters outside the court.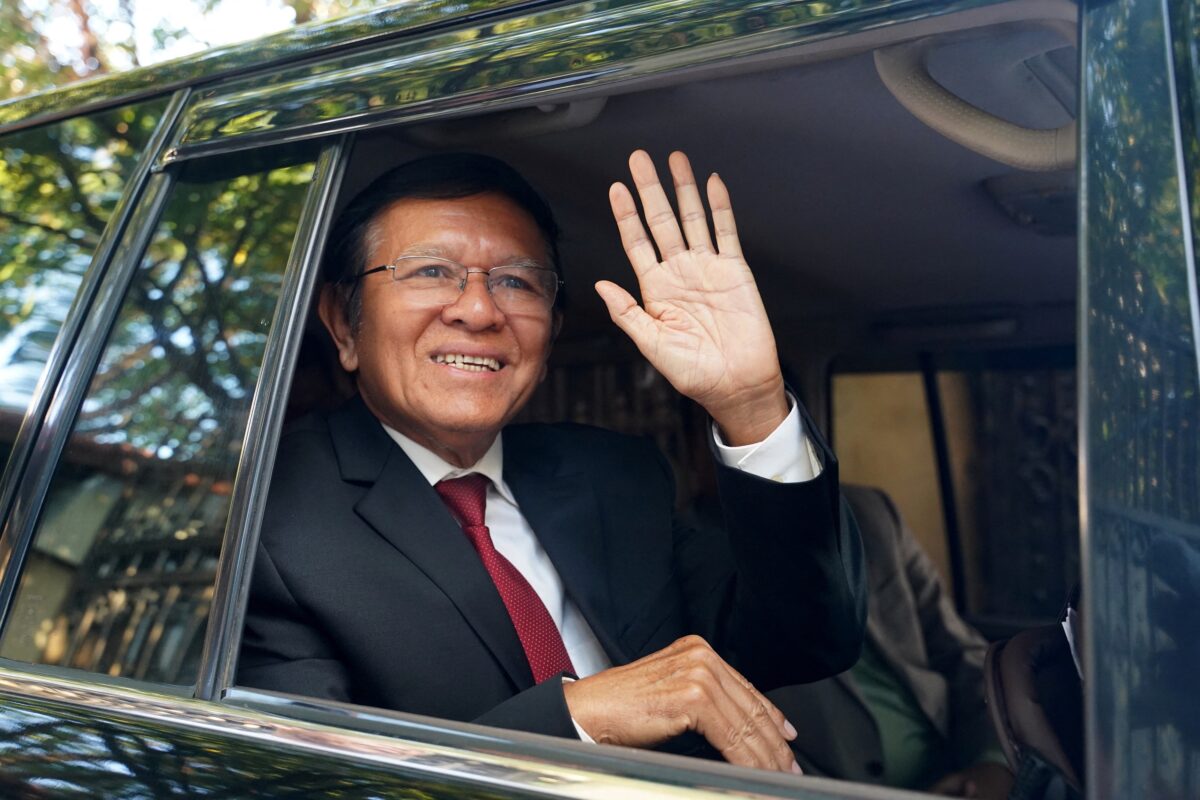 The government, which has forged close ties with China, tends to dismiss U.S. criticism.
A government spokesperson declined to comment on the court case, referring questions to the judiciary.
The CNRP was banned ahead of a 2018 election that was swept by the Cambodian People's Party (CPP) of Prime Minister Hun Sen.
CNRP has since been decimated, with many of its members arrested or fleeing into exile in what activists say is a sweeping crackdown designed to thwart challenges to the CPP's power monopoly.
Cambodia is due to hold elections in July, with the opposition launching the Candlelight Party last year, which largely regroups members of the CNRP.
Many media outlets critical of Hun Sen have also been shuttered and civil dissent crushed in recent years.
Last month, Hun Sen ordered the closure of the Voice of Democracy, one of the last independent Cambodian news organizations, saying it had attacked him and his son and hurt the country.
Hun Sen is expected to seek another five-year term in office in the July election, but he has previously offered support for his eldest son, Hun Manet, as a possible successor.
Human Rights Watch said the case against Kem Sokha was a "politically motivated ploy" by Hun Sen to sideline the opposition and stamp out democracy.
"Sending Kem Sokha to prison isn't just about destroying his political party, but about squashing any hope that there can be a genuine general election in July," said Phil Robertson, deputy Asia director at Human Rights Watch.
By Prak Chan Thul