Some campaigners are concerned that calls for a new post-lockdown legal right that would ensure at least one relative or friend can always have contact with patients in hospitals or care settings could "normalise restrictive practices."
A new law that would place a duty on health and care providers to allow a service user to be accompanied by a care supporter was discussed in Parliament on Tuesday.
However, despite gaining widespread support from groups, a campaign group is concerned the legislation could effectively give care providers the authority to limit and deny access.
Due to the visiting bans and restrictions imposed during COVID-19, advocates for family rights have been urging the implementation of new laws to safeguard the health, well-being, and family rights of individuals residing in care homes during any future public health emergencies.
Families are still being prevented from seeing their loved ones in care homes and hospitals, which is being called a "dangerous hangover from COVID restrictions."
Gloria's Law
Labour MP Dan Carden, along with 60 cross-party MPs and many organisations, is calling for Gloria's Law to be passed.
Gloria's Law was named after West End performer and actress Ruthie Henshall's mother after personally affected by the harsh visiting restrictions imposed on care homes during the lockdown.
If passed, the bill will place a duty on providers to allow unrestricted in-person support from at least one essential care supporter, nominated by the service user.
"The care of a loved one is not an optional extra; it is an absolutely central part of dignified care. Separation and isolation have a deeply harmful impact on individuals, but particularly on those who are vulnerable. For those who are approaching the end of life, the impact cannot be understated. My bill seeks to recognise those fundamental points, and put them into law," said Carden as he presented the ten-minute bill in Parliament.
"There is a dangerous hangover of restrictions from COVID and a lack of urgency from the government to change things. The need for the bill is therefore as pivotal as it was during the pandemic," added Carden.
Groups such as John's Campaign, which campaigns for visiting rights for dementia patients, and Rights For Residents supported the law.
"Every time I listen to this or read the text I feel more profoundly moved and relieved that MPs have understood this deep human principle and will protect it in law," wrote John's Campaign on Twitter.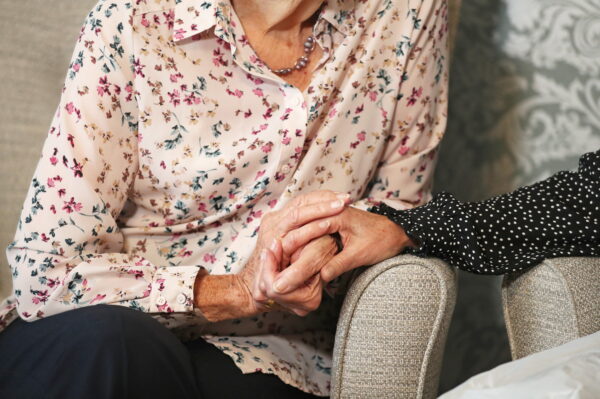 Unintended Consequences
Chair of The Social Care Working Group at the Together Association (also called The Together Declaration) Amanda Hunter told The Epoch Times that she too experienced and "felt an utter sense of powerless and despair" witnessing her own mother suffer due to the deprivation of family contact.
The Together Declaration, co-founded by Alan Miller, has an ongoing campaign to get the government to apologise, reinstate, and compensate fired care workers. He called their firing, "a huge loss and a shameful moment for Britain."
His organisation was formed in 2021 in response to COVID-19 measures with the mission to "push back against the rapidly growing infringements on our rights and freedoms."
Hunter is also the founder of the campaign group Unlock Care Homes, which wants to put an end to "inhumane visiting restrictions, neglect, and abuse" in all care settings.
While Hunter applauded the efforts of John's Campaign and Rights For Residents to campaign the legal protection of visiting rights, she argued that the law in its current form would give care providers and hospital trusts the authority to use the "at least one" provision as the default, thereby "normalising restrictive practices."
"We need to think about the potential unintended consequences," she said.
Restrict the Rights and Freedoms
"While we fully support calls for legislation to protect individual and family rights in the event of future public health emergencies, we do not believe the current proposal goes far enough. More importantly, we feel that it could ultimately restrict the rights and freedoms of care recipients and their families further," said Hunter.
"There are valid reasons for fearing that once passed, the proposed legislation would effectively hardwire restrictions for perpetuity, not just in times of a public health emergency," she said.
"As was witnessed during the pandemic, care providers and hospitals were inclined, for ease and convenience, to adopt and impose blanket limitations on visiting access," she added.
Hunter said that she "firmly believes that there should be no limits on how many family members and friends can visit—regardless of their caring role."
She also said that forcing patients and residents to choose which family member or friend would provide care support would "cause inevitable distress and could be "hugely divisive."
The Epoch Times contacted Dan Carden for comment.