Canada to Drop Mandatory COVID-19 Testing for Air Travellers From China
[ad_1]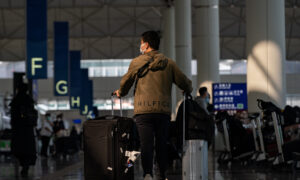 Canada is dropping the COVID-19 testing requirement for air travellers from China, Hong Kong, and Macau that was put in place for less than three months after Beijing announced a sudden reopening of its borders in January.
The temporary pre-departure testing requirement will be dropped as of 12:01 a.m. EDT on March 17, 2023, the Public Health Agency of Canada (PHAC) said in a statement on March 16.
"Air travellers to Canada on flights originating from the People's Republic of China, Hong Kong or Macao will no longer be required to provide evidence of a COVID-19 test result before boarding. This means that there will no longer be any federal COVID-19 border measures in place after that time," the statement reads.
The measure was first put in place on Jan. 5, which the PHAC said was "in response to the surge of COVID-19 in the People's Republic of China and given the limited data available at that time on those cases."
A number of other countries introduced similar measures at the time, as China saw an explosive number of infections and deaths after the Chinese Communist Party abandoned its draconian zero-COVID policy on Dec. 7, 2022. China officially reopened its borders on Jan. 8, allowing residents to travel outside of China after three years of lockdowns and personal restrictions.
Data from China, the international community, and wastewater sampling conducted in Canada have not detected any new variants of concern since, the PHAC said in the March 16 statement, adding that "the COVID-19 situation in both China and Canada has improved, and the Canadian healthcare systems remain stable."
The Epoch Times reached out to Transport Minister Omar Alghabra, Transport Canada, and the PHAC for comment in regard to what data they have to support the lifting of the testing requirement, but didn't hear back immediately.
[ad_2]

Source link