Canada's Banking Regulator Takes Permanent Control of SVB Branch's Assets Following Collapse
[ad_1]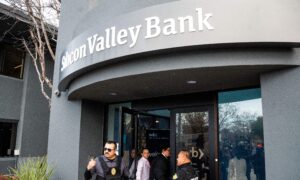 Canada's banking regulator has taken permanent control of the assets held by Silicon Valley Bank (SVB)'s branch in Toronto, with the assets being transferred to a new "bridge bank" created by the U.S. Federal Deposit Insurance Corporation (FDIC).
"I took this action to affect an orderly transition of the Canadian branch of Silicon Valley Bank to the FDIC bridge bank," said Superintendent of Financial Institutions Peter Routledge in a release on March 15. "I am satisfied that this approach, developed with officials in the United States, is in the best interest of the branch's creditors."
SVB, which served nearly half of the United States' venture-capital-backed technology and life-science companies, collapsed over the weekend. Panicked investors had attempted to withdraw billions over concerns about the bank's finances. When the bank failed to raise enough money to meet its obligations, the California Department of Financial Protection and Innovation closed it down.
Routledge took temporary control of the assets held by SVB's Canadian branch on March 12. Routledge said on March 15 the seizure is permanent and that the Ontario Superior Court of Justice has granted a winding up order.
On March 12, Routledge said in a statement that the seizure of assets is the "result of circumstances particular to Silicon Valley Bank in the United States." But his office had begun daily liquidity check-ins with Canadian banks to monitor their financial health, the Globe and Mail reported, citing sources it did not identify because they were not authorized to speak on the issue. Routledge's office told The Epoch Times via email it is "always monitoring the liquidity of the institutions it regulates."
As the court-supervised restructuring of SVB's Canadian branch progresses, operations will be transferred to the FDIC's newly created bridge bank, called the Silicon Valley Bridge Bank. The court has appointed  PricewaterhouseCoopers Inc. to oversee the transition. Since the court has approved the winding up order, Routeledge's office no longer has an active role to play in resolving the situation.
Filings from the end of January 2023 showed that SVB's Canadian operations had assets totalling $855.3 million, including $415.8 million in loans and $416.5 million in deposits with regulated financial institutions.
On March 12, Finance Minister Chrystia Freeland said in a statement that the federal government was closely monitoring the situation with SVB, while working together with the Office of the Superintendent of Financial Institutions.
"Canada's well-regulated banking system is sound and resilient," she said.
Peter Wilson and The Canadian Press contributed to this report.
[ad_2]

Source link