Canadian Protestors Join World Wide Rallies Against COVID-19 Mandates
VANCOUVER—Thousands of Canadians gathered in more than two dozen cities across the country on Nov. 20, joining parallel rallies in more than 130 cities in 40 countries around the world to protest COVID-19 mandates that they see as infringements on civil liberties.
The World Wide Demonstration 5.0 "is an internationally syndicated community demonstration dedicated to emboldening citizens to push back against Coronavirus related Restrictions in their countries," says the website of one of the groups organizing the demonstrations, World Wide Demonstration.
Jacqueline Best with Canada Unites hosted a livestream event of the rallies from her home in New Brunswick, bringing in organizers from different cities including St. John's,  Toronto, Whitehorse, and other cities.
"You have the right to speak your mind and what you feel and take responsibility for it," Best said.
The event in Calgary reportedly attracted several thousand people.
Meanwhile, demonstrators hosted more than a dozen rallies throughout British Columbia, where the turnout was lower than past events as the province was recently devastated by floods and mudslides.
Johnson's organizing partner, Danielle Pistilli, an organizer of a rally in Vancouver, described how they adapted their event given the recent flooding and mudslides which hit Greater Vancouver and the Fraser Valley last week: Donation bins for food, clothing, and blankets.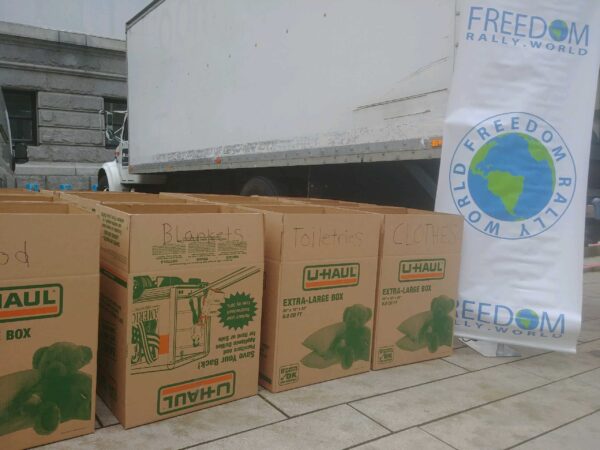 "There's still a large amount of community that is in dire need, and so we've decided to pull together all of these supplies and have everybody just bring everything that they can to  help their community," she said.
While delivering a passionate speech on behalf of Police on Guard For Thee, chapter president Bert Mayo unveiled a truck to the approximately 1,200 in attendance with the slogan, "Provincial emergency measures violate your rights," which will be driving around British Columbia in the coming days.
In Victoria, co-organizer Heather Kessler said an estimated 1,500 people attended the rally.
Security and organizers were cautious leading up to the Nov. 20 rally after counter protests erupted during a similar rally in September, forcing police to intervene. No counter protests disrupted the event this time.
Catherine Dean attended Vancouver's rally, saying she supports the principles of freedom put forth by the World Wide Demonstration.
"I'm here because I'm part of a community of people worldwide that are increasing in awareness of what's actually going on and has been going on for a really long time," Dean said.
"I want to band with all people of every group that are against the tyranny that's happening. I stand for autonomy, freedom of choice. I stand for happiness and health in life."