Canadian Transport Minister Says Provinces Should Cancel Licenses of Truckers Involved in Protest Blockades
OTTAWA—Federal Minister of Transport Omar Alghabra is asking provinces to use their powers to suspend commercial licenses or insurance of trucks used in protest convoy blockades in different parts of Canada.
"The provinces have extensive regulatory powers over commercial trucking and road transportation to help end this unlawful occupation and disruptions of commercial trucks, blockading the streets and highways," Aghabra said at a press conference on Feb. 7.
Alghabra's comments were one of several pointed comments by federal cabinet ministers during the press conference focused on the protests in Ottawa and other parts of Canada against COVID-19 mandates and restrictions.
Bill Blair, minister of emergency preparedness, said the federal government is proposing to convene a "trilateral table" with the municipal and provincial governments to deal with the protesters.
His comments came after Ottawa Mayor Jim Watson declared a state of emergency in his city on Feb. 6.
Prime Minister Justin Trudeau didn't attend the press conference.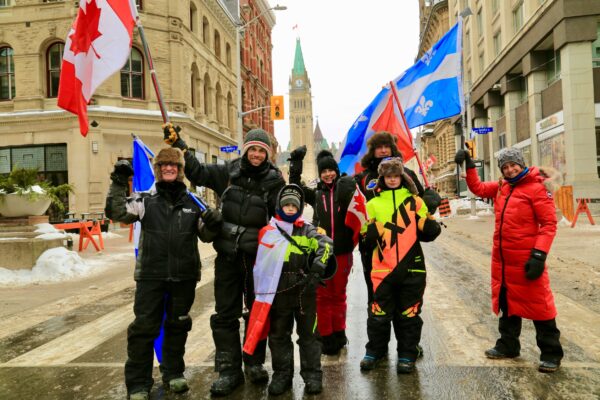 Trudeau went into isolation after testing positive for COVID-19 on Jan. 31. It has been eight days since the development, longer than the five-days of required isolation period, but he hasn't been coming to the Parliament, and hasn't been taking questions from reporters virtually on the developing situation in Ottawa.
In a press conference on Jan. 31, Trudeau denounced the protests with strong words, linking them with racism and hatred, and said he won't meet with the protesters.
Protest organizers say their protests are peaceful, and they are willing to meet with government representatives, but no-one has contacted them so far.
"The first thing they've got to do is call us … we're sitting here, we're waiting by the phone," protest organizer Benjamin Dichter said in a press conference in Ottawa on Feb. 6.
The protest started by truckers against COVID-19 vaccination mandates for cross-border travel, but has since evolved into a major movement against all COVID-19 mandates and restrictions. Many protesters say they will remain in Ottawa until the mandates are lifted.
During the Feb. 7 press conference, cabinet ministers used strong words against the protesters, linking the protest with violence. Marco Mendicino, minister of public safety, said Ottawa residents "have been effectively held hostage in their own city, blockaded by an angry, loud, intolerant, and violent crowd."
Liberal MP Yasir Naqvi, who represents Ottawa Centre, even cited an alleged attempted arson incident happening in an Ottawa building, linking it to the protest, while there has been no proof that protesters were involved. The case involves many peculiarities, including the police responding to it only after someone made a social media post about it.
Epoch Times journalists on the ground since the start of the protest say they haven't seen any visible signs of violence or hatred, and often see scenes of people providing free food, listening to speeches, dancing to music, and protesters smiling to passerby.
Protest organizers said during the Feb. 6 press conference that they realize many Ottawa residents are subject to continuous honking, but said Ottawa is also the nation of the capital, and the lives of many has been ravaged by the pandemic mandates and restrictions, including job loss for those who choose not to be vaccinated.
"The people dealing with the honking, they're not the only ones that are dealing with the impact of all these mandates," Daniel Bulford, a former RCMP officer who quit the force because of its vaccine mandate, said at the press conference.