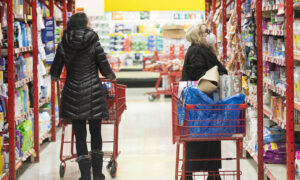 Canadians in their 60s say they may delay their retirement over concerns that inflation will persist into the future, according to an internal poll conducted for the federal government.
"Participants nearing retirement expressed concerns about a number of issues including the cost of living," said a Privy Council Office report, titled "Continuous Qualitative Data Collection Of Canadians' Views," published on Oct. 7, 2022.
"Some described their long term financial outlook as bleak, suggesting they were not overly optimistic it would improve by the time they expected to retire."
"Resulting from this, several were rethinking their retirement plans with a view to extending their participation in the labour force either full time or part time as a means of enhancing their household income," said the study, obtained by Blacklock's Reporter.
The study, commissioned under a $2.4 million contract with The Strategic Counsel, said some respondents were also worried about the impact of taxation.
"A number of participants shared concerns that any additional income they earn may be at risk of being clawed back by the federal government by way of taxation," wrote researchers.
"This was a particular concern for those with a spouse or partner in receipt of government benefits or income supplements, e.g. disability benefits."
'Do Not Know When They Will Retire'
The sentiments appear to echo a 2020 survey conducted by Ipsos on behalf of the Canadian Institute of Actuaries that found 40 percent of non-retired Canadians "do not know when they will retire."
"And a further 14 percent state they do not expect to ever retire," said the study, titled "2020 Retirement Risk Survey," published on Sept. 28, 2021.
The survey was conducted in July and August of 2020, asking over 1,500 Canadians 18 and over about their retirement risk concerns and preparedness, in the context of COVID-19.
It found that nearly one in four Canadians (23 percent) report that COVID-19 has impacted their own or their spouse's timeline to retirement.
"Amongst those who report that COVID-19 has impacted their timeline to retirement, the majority (69 percent) say they and/or their spouse will work longer than planned because they need the income," the study said.
More than a third of Canadians (36 percent) said they suffered a drop in household income because of the pandemic.
Twenty-five percent of the respondents reported taking on additional debt due to the pandemic, with higher percentages seen among students and self-employed Canadians (both 33 percent), those who rent their homes (34 percent), and those without a financial plan for retirement (32 percent).
According to Statistics Canada, the average retirement age in 2022 is 64.6. The actuaries report found at least four percent of respondents expect to work past 70.