Amid a surge of COVID-19 cases in China, many overseas Chinese, including those as far afield as Canada and as close as Japan, are rushing to buy up medicines in those countries and send them to family back home.
NTD Television, The Epoch Times' sister media, talked with courier companies in Vancouver and Toronto who said they've seen a dramatic rise in the number of drug packages being shipped to China by the Chinese community recently.
A staff member at a drug counter in a Toronto Chinese supermarket told NTD she's seen many more Chinese people coming to the store since December to buy fever and cold medicines and send them back to China.
Many Chinese living in Japan and other parts of the world similarly rushed to get their hands on the medicines for their families in China, which is facing widespread drug shortages across cities and towns triggered by the latest surge in COVID infections.
Generic versions of Tylenol and Advil were quickly snapped up at pharmacies in Hong Kong, Macao, Taiwan, and Australia, and sent to China, according to several media reports.
The bulk purchases have also left Japanese drugstores in short supply of such drugs. One pharmacist in Osaka told The Epoch Times recently that Chinese buyers stockpile fever patches, cough and cold medicines, masks and eye drops, and ship them back to the mainland.
Purchase Limits
The panic buying has raised alarm worldwide, and drugstores and authorities have begun imposing purchase limits.
Pharmacies in Hong Kong, Macau, and Australia have reported shortages of painkillers and fever reducers due to the extensive purchases, and have been forced to restrict purchases, according to Taiwan-based Central News Agency on Dec. 16.
In Taiwan, an official with the Central Epidemic Command Center urged residents not to buy up drugs and "send them overseas" after local pharmacies reported a spike in demand for Panadol by overseas Chinese who wanted to send the drug to their friends and relatives in China, reported Radio Free Asia on Dec. 19.
This phenomenon also comes at a time when Canada is struggling with its own drug shortage. The country has been experiencing a shortage of children's Tylenol and other medications in recent months amid a surge in influenza and other respiratory viruses.
Some major pharmacies, including Shoppers Drug Mart, have imposed a limit on the purchase of these drugs.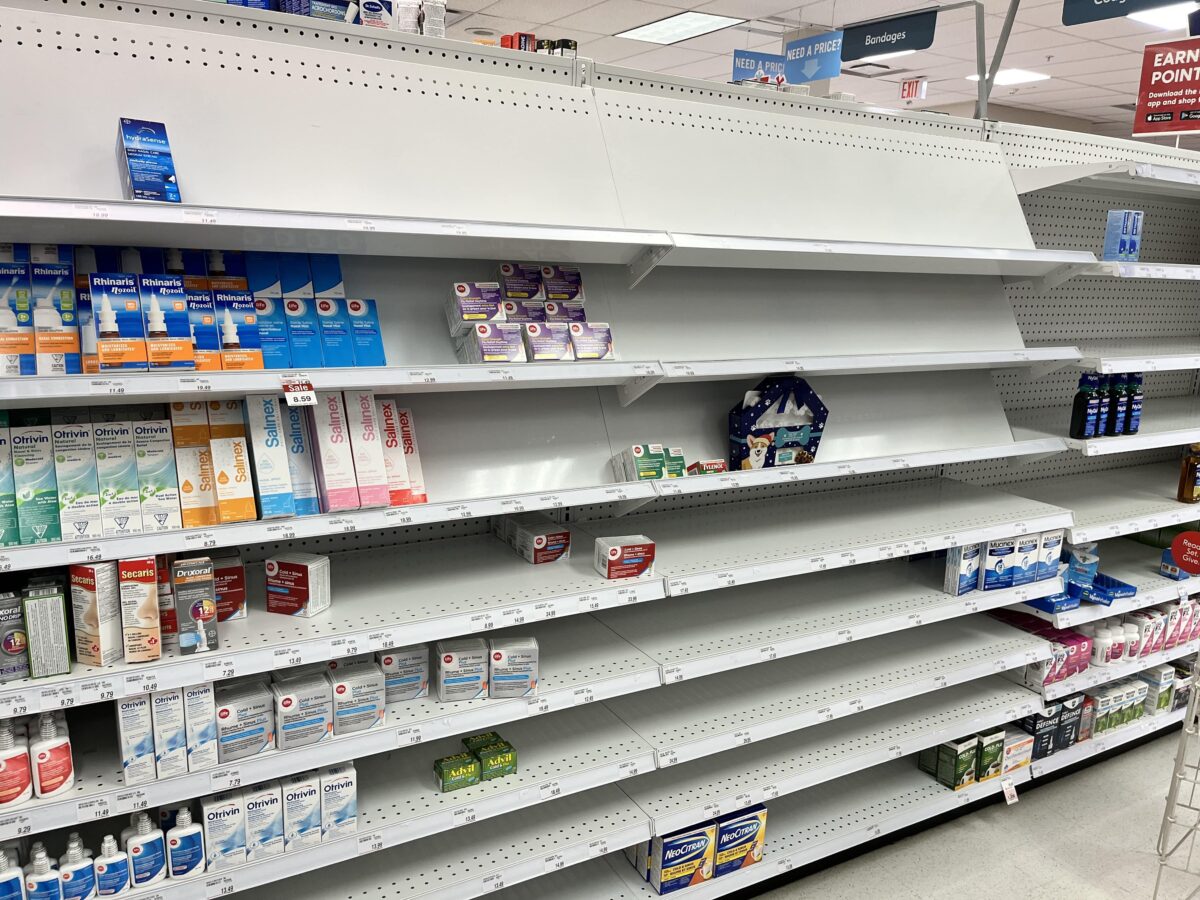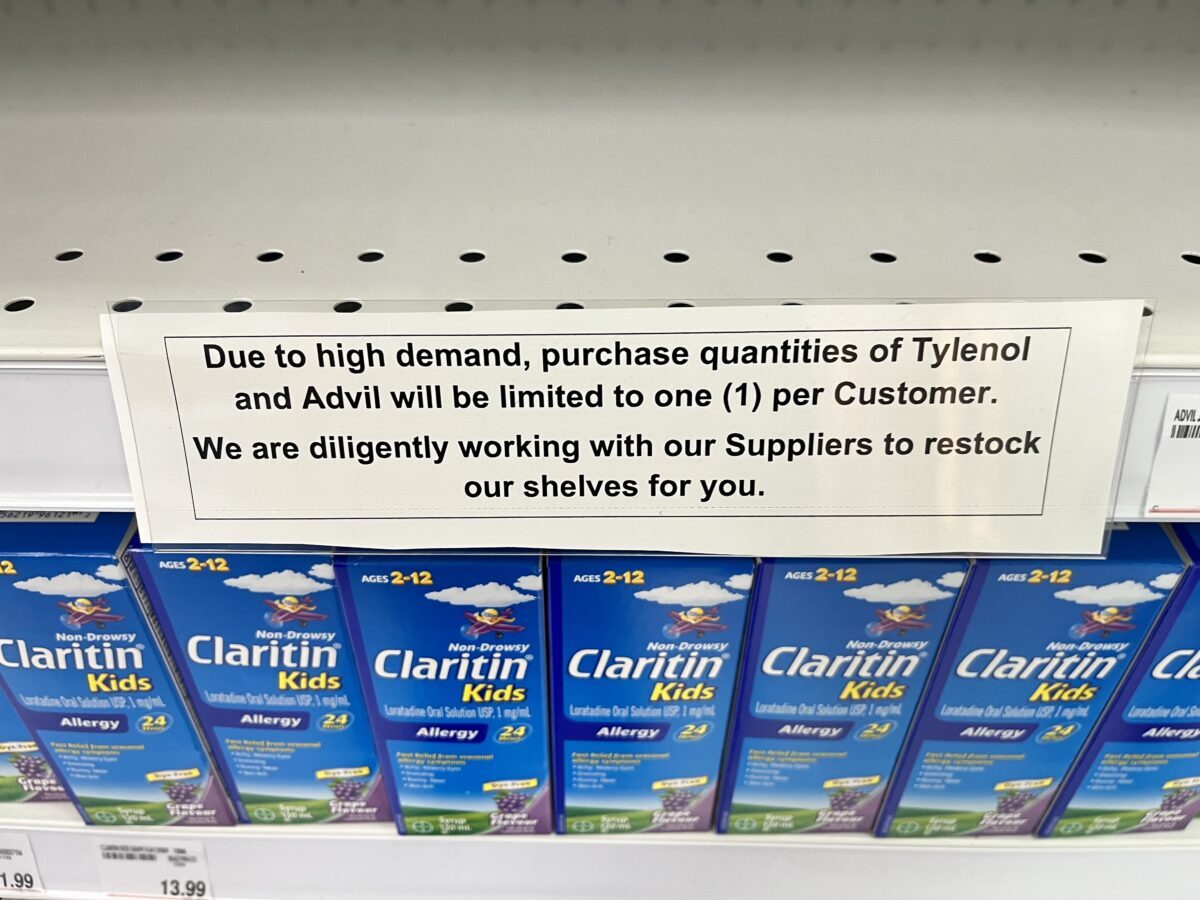 'Foreign Supply'
Meanwhile, pharmacies across Canada are already experiencing a shortage of cold and fever medicine, including for children, due to high rates of flu and respiratory infections.
On Nov. 14, 2022, Health Canada announced it was taking steps to import children's acetaminophen and ibuprofen to "help address the immediate situation."
"We have secured foreign supply of children's acetaminophen that will be available for sale at retail and in community pharmacies in the coming weeks," the department said in a press release.
"At this time, Canadians should buy only what they need, so that other parents and caregivers can access medication so we can meet the needs of sick children."
CTV News reported that a poll conducted by the Canadian Pharmacists Association in December found that about 25 percent of pharmacies in Canada did not have a supply of adult cold and flu medicines, and 62 percent had minimal supply.
In an interview with CTV's "Your Morning" on Jan. 10, Daneille Paes, the association's chief pharmacist officer, said while pharmacies are now receiving stocks of adult pain relief drugs, the high rate of viral infections as well as high demand mean there's still a shortage.
"The stock is coming in, it's just not staying on the shelves and so we're continuing to find challenges as we navigate these unprecedented times where buyers' activities are just circulating at high rates," she said.
Ben Liang, Kane Zhang, Lynn Xu, Roger Li, Lily Guo, and Jack Phillips contributed to this report.