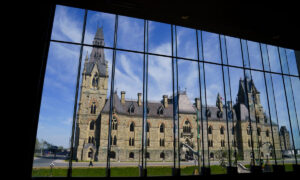 Claims of foreign interference in Canada's last two federal elections are "speculative" and "not based on facts," says Liberal MP Ya'ara Saks, who also said the federal Conservatives are spreading misinformation on the matter.
Saks, who represents the constituency of York Centre in Toronto, made the comments during a meeting of the House of Commons Standing Committee on Procedure and House Affairs (PROC) on March 14, as first reported by Blacklock's Reporter.
Saks said the "nature of the world we live in" consists of misinformation spreading quickly and creating "stereotypes and frankly racist tropes and hatred towards communities."
"It moves at warp speed," she said, going on to reference a media report she said she recently read, which stated recent claims of foreign interference in Canada's 2019 and 2021 elections are "based on speculative information."
"It's not based on clear markers of information that's been provided," she said. "It's a lot of talk and it's moving at warp speed."
Reports of Beijing interfering in Canada's past two federal elections began circulating after reports by Global News and the Globe and Mail cited secret intelligence documents and sources detailing the Chinese regime's interference attempts.
Foreign Interference
Saks's comments came during a PROC meeting in which the Liberal members of the committee spoke in turn for a whole day to avoid voting on a motion supported by all opposition parties to have Prime Minister Justin Trudeau's chief of staff appear before the committee for testimony on election interference.
All opposition parties have also called on Trudeau to initiate a public inquiry into allegations of foreign interference in the last two federal elections, but he has ruled it out on more than one occasion.
The prime minister has also previously voiced similar concerns to those held by Saks about anti-Asian racism spreading as a result of Beijing's alleged interference in Canadian elections.
"One of the things we've seen, unfortunately over the past years, is a rise in anti-Asian racism linked to the pandemic, and concerns being raised or arising around people's loyalties," Trudeau said on Feb. 27.
Bloc Québécois Leader Yves-François Blanchet responded to Trudeau's comments several days after, saying it's "ridiculous" for the prime minister to refer to racism when questioned on election interference by a foreign government.
"There is a sort of reflex, under any circumstance, to use the word 'racism'—it's as though the word 'racism' is the glutamate of politics," he told reporters on March 1 in Ottawa.
Noé Chartier contributed to this report.