Commissioner Lucki Contemplated Dressing Soldiers in RCMP Uniforms During Freedom Convoy: Text Messages
RCMP Commissioner Brenda Lucki told OPP Commissioner Thomas Carrique on Feb. 13 that she was thinking about dressing military personnel in RCMP uniforms to increase police resources, according to text messages filed as evidence at the Public Order Emergency Commission.
"It's funny you say that, because I was thinking maybe we use CAF [Canadian Armed Forces] but in our uniforms as unarmed Auxiliaries or Spl. Csts. [special constables] to supplement us.. in teams," Lucki wrote.
Lucki had previously asked Carrique whether he saw a role for the CAF in the enforcement or management of the events.
"[For] example, after we secure and all is back to 'normal', maybe keeping sites secure or patrolling unmanned POEs [Points of Entries] etc."
Protests and border blockades demanding the lifting of COVID-19 restrictions were also taking place across the country at the time.
Carrique told Lucki he was not supportive of the idea of using CAF personnel.
"Best step for government – I would rather not see CAF playing a role off of govt properties," he wrote.
"We could use special constables controlled by police for unarmed patrols and an immediate long term commitments to adequate policing resources to both prevent and respond to these events."
The Epoch Times contacted the RCMP and the Department of National Defence for comment but didn't hear back immediately.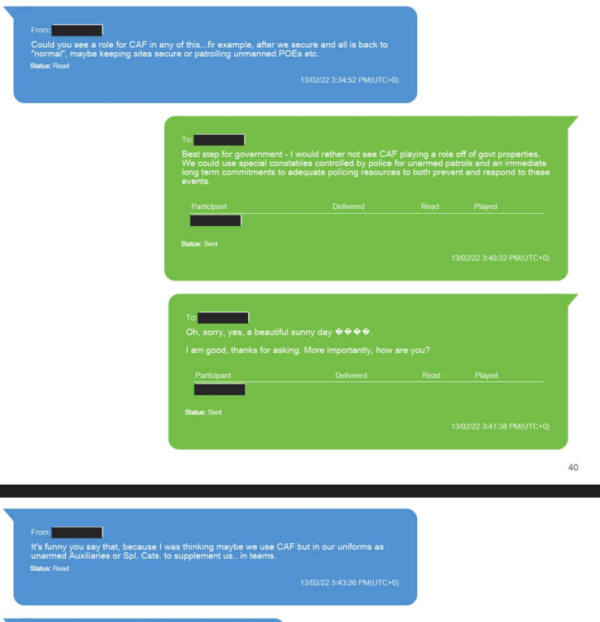 Carrique testified before the Public Order Emergency Commission on Oct. 27 and Lucki is expected to testify at a later date.
The commission is reviewing the Liberal government's invocation of the Emergencies Act on Feb. 14 to clear protests and blockades.
The summary of Carrique's August interview with commission counsels says that he did not request emergency powers from the federal government, and the decision to invoke was not communicated directly to the OPP.
"The OPP did not change its approach to enforcement action as a result of invocation of the Emergencies Act," says the summary.
During the events last winter, Prime Minister Justin Trudeau addressed the possibility of calling on the military a number of times.
"One has to be very, very cautious before deploying military in situations engaging Canadians," Trudeau said on Feb. 3.
He later said on Feb. 11 a military deployment is "something to avoid having to do at all costs."
The military can provide aid to civil power to quell riots or disturbances, according to the National Defence Act.
Section 282 of the act says that soldiers called for that task have all the powers and duties of constables without having to take an oath, "so long as they remain so called out, but they shall act only as a military body and are individually liable to obey the orders of their superior officers."