COVID-19 Vaccines Cause Inflammation in 'Every Organ and Tissue of the Body'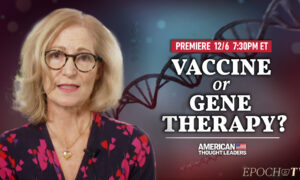 This episode will premiere on Tuesday, Dec. 6, at 7:30 p.m. ET. 
"There's a loophole that they've slipped through in the regulatory process, because most drugs require pharmacokinetic studies … And that has not been done with the COVID-19 vaccines," says Dr. Tess Lawrie, co-founder of the World Council for Health.
Pharmacokinetics is the study of how a drug behaves in a patient's body, how it distributes, and how long it takes to be cleared from the body. "Because they've been called vaccines … all these manufacturers have been required to do is to show that the product they inject gives an immune reaction, gets an immune response. They have not been required to show how it distributes around the body," says Lawrie.
She argues that the COVID-19 injections are not actually vaccines, but are instead gene therapies. And they must be halted immediately, she says.
Myocarditis is just the tip of the iceberg. Inflammation is actually occurring not just in the heart, but "in every organ and tissue of the body," Lawrie says.
In this episode, she breaks down the alarming signals that independent researchers have found, and what people can do if they are worried about their own health or the health of their loved ones.
Dr. Lawrie is also the director of The Evidence-Based Medicine Consultancy Ltd. Her Substack is called "A Better Way to Health."
Subscribe to the American Thought Leaders newsletter so you never miss an episode.
BUY Jan 6 DVD: https://www.epochtv.shop/product-page/dvd-the-real-story-of-january-6, Promo Code "Jan" for 20% off.
* Click the "Save" button below the video to access it later on "My List."
Follow EpochTV on social media:
Twitter: https://twitter.com/EpochTVus
Rumble: https://rumble.com/c/EpochTV
Truth Social: https://truthsocial.com/@EpochTV
Gettr: https://gettr.com/user/epochtv
Facebook: https://www.facebook.com/EpochTVus
Gab: https://gab.com/EpochTV
Telegram: https://t.me/EpochTV