Customer Outrage as Seafolly Goes Woke
Commentary
I didn't expect to wake up and find myself as the face of the Daily Mail's Seafolly scandal. Twice.
But it has taught me an interesting lesson about the progression of the Woke-outrage narrative, which turns the aggressors into victims during the click-bait cycle.
I was a long-time customer of Seafolly, an Australian women's swimwear company founded in 1975.
Their mission statement says:
"The fiery spirit of the Australian sun and the refreshing optimism of the ocean flows through all that we do. We harness this to create considered swim collections that inspire the confidence all women need to truly embrace and enjoy the beach. Our swimwear, beachwear, and accessories are designed with women in mind, providing shapes and support to suit a variety of body types, destinations, and activities. Ensuring you feel confident, always."
Their gear is on the pricey end but if you're headed for a resort where the swimming costume needs to double as an outfit, you're probably going to end up in a Seafolly store.
The one thing that Seafolly has made clear is that they are a brand for women. Not men.
Their stores have always been a space for women, about women, and catering specifically to women.
It's important because shopping for swimwear can be stressful for women who are trying to conform to society's beauty standards. They go to Seafolly because they want to look good.
Flipping the Switch for World Pride
It surprised many customers that, as part of World Pride, Seafolly chose to feature a man with they/them pronouns as the centre of their marketing campaign (targeted at women?).
Hairy legs in platform heels, a full beard, and a definite bulge in the neon swim bottoms.
I asked myself, were there no lesbian models available for the World Pride Celebration Event?
A few days later, hundreds of unhappy customer comments had accumulated on the company's Instagram account (which are now mysteriously gone?). Then the backlash to the use of a non-binary 34-year-old male model, Deni Todorovič, intensified as the story hit the press right on International Women's Week.
It left the company fending off angry women who have said they are never shopping with the company again.
Seafolly released a statement addressing the now vanished comments, saying: "We are here to celebrate the Australian beach lifestyle and inspire one another to feel confident at the beach. In this community, we do not tolerate abusive, offensive, hateful language, trolling, deliberate disruption of discussion, or spam. Please be respectful of each other's differences and remember to always be kind."
But I thought they were a company celebrating women.
Regardless, it's good advice that Seafolly should have applied to itself, considering plenty of their female customers felt that the brand was trolling them with disrespectful, offensive, and deliberately disruptive social justice politics.
When it comes to "diversity and inclusion," the brand appeared to not be capable of accepting the diversity of opinion thrown back at its social media accounts.
It's almost as if women are expected to sit down and shut up, and if they won't be quiet—their objections will get deleted.
Seafolly has now released another statement on its Instagram account clarifying the situation. The company said that Deni Todorovič was not the new season Global Ambassador but rather a special guest for Sydney's World Pride event.
The swimsuit company also announced that their Global Ambassador for 2023 was British-born model and photographer Joanne Halpin.
I Won't Be Shopping There Anymore
After seeing the campaign, I tweeted: "Bye @Seafolly. Never again. Been buying swimsuits from you for many years. Never again."
Like many, I found Seafolly's ad campaign and the disrespect it presented toward women during International Women's Week to be revolting. I will be finding a swimwear brand that shows more respect to its female customers.
The Daily Mail (and later, other publications) picked up on my follow-up comments to another Twitter user in which I added: "These brands are mocking women with this behaviour and weirdly, women don't like it."
The overwhelming majority of women (and men) who commented on the Seafolly campaign were fed up with male activists being picked up by virtue-signalling companies and thrust on the consumers as some kind of "lesson in diversity."
Diversity in women's swimwear is meant to mean diverse bodies, price points, and patterns—not diverse genders. If there's a bulge in the swimwear, you might as well drop the "women's" from the company branding and switch to "unisex."
The victims in this situation are the women who are forced to watch their spaces, language, bodies, and identities being attacked by "Woke" corporations and activist individuals. These women are perfectly entitled to express their anger, frustration, and disappointment with brands when they pull stunts like this.
They're Stirring the Pot on Purpose
Instead of accepting that women are the ones being constantly bullied by aggressive activism, the new line today presents the model as the victim, saying that he is "deeply hurt" by the backlash.
He spoke to the Daily Mail: "When I sat down with Seafolly, I prepped them for it. I told them, people will say, 'You're trying to be Woke. It's tokenistic!' I told them I have a statement ready to go. I've done it before with Bonds and David Jones. I feel very supportive and very prepared. It's all part and parcel of being a trans creator and just being a trans person in Australia."
Which begs the question, if the LGBTQ+ movement is all about being kind and tolerant, why are its activists wading into female-only spaces knowing full well that they are going to upset, offend, and hurt women?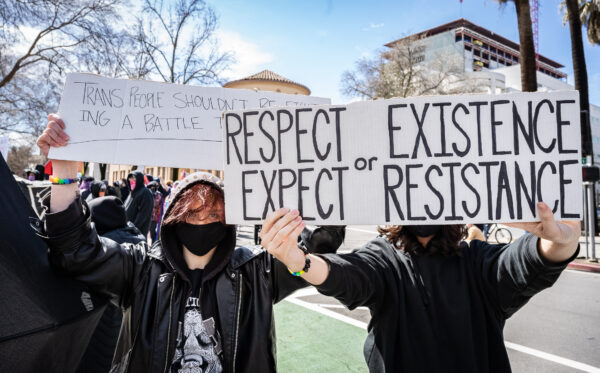 There used to be things like decency and common courtesy. For most of Australia's history, a man would never invade a women's industry seeking attention for themselves. It'd be considered poor form and insensitive.
At least he admitted that he's "part of a marketing ploy to cause a controversy."
And despite the rambling excuses given about people wanting to "erase trans people" and threaten them. No. Women are not saying that trans people should not exist. They are not threatening to kill them. They are not saying that their lifestyle should be banned or that they cannot wear swimmers.
Women are saying that if a women's swimwear brand chooses to celebrate International Women's Day or even World Pride with a man—those women are going to find a different place to shop.
I'm sure Seafolly got a lot of free advertising out of this stunt. But not all publicity is good publicity—just ask Gillette.
Views expressed in this article are the opinions of the author and do not necessarily reflect the views of The Epoch Times.