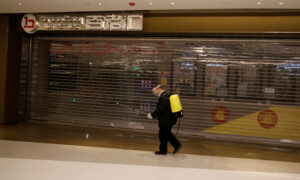 China's imports are declining alongside domestic demand and a poor economy, which has dragged.
Auto sales in China have started a price war but several Chinese state media outlets have recently continued to claimed that China will bring development opportunities to the entire world.
On March 9, Chinese state media cited Eduardo Regalado, a China expert based at the Center for International Political Studies in communist ally nation Cuba, saying that many Latin American countries are actively expanding their exports to China to boost their economies. However, the value of China's imports and exports continued to fall year-on-year from January to February. It is absurd to note that the only "international expert" that China could find to say positive things about its economy was is someone from Cuba.
From January to February, China's imports stood at $389.4 billion, down 10.2 percent year-on-year. On March 7, the General Administration of Customs (GAC) of the Chinese Communist Party (CCP) released the "Total Value of Major Countries (Regions) of Imports and Exports from January to February 2023," which showed that China's total imports from Taiwan fell by 30.9 percent, those from South Korea fell by 29.0 percent, followed by imports from New Zealand, which fell by 26.26 percent.
Pain in Taiwan
The economic impact of China's economic slowdown is also being felt by its major trade partners.
According to preliminary customs import and export trade statistics released by Taiwan's Ministry of Finance on March 7, Taiwan's sectors most affected by the drop China's imports were those dealing with high-tech products like information, communication, and audio-visual products which fell by 43.0 percent, optical equipment which by 39.3 percent, and electronic components which fell by 31.3 percent.
A summary of Taiwan's official analysis of the international trade situation released in February said that the pandemic's disruption of production and sales in mainland China was one of the reasons for consecutive declines in Taiwan's exports. The Ministry of Finance of Taiwan said in November last year that in addition to pandemic control in China, the sluggish housing market was also contributing to a slowdown in the economy.
As of February, South Korea's exports to China also have fallen for nine consecutive months. South Korea's export figures for February showed that exports to China fell the most, by 24.2 percent, and that exports of most products, except wireless communication products, were down. For example, between Feb. 1 and 25, the total value of semiconductor exports to China fell by 39.0 percent, while the value of monitors fell even more, by 43.5 percent.
Among South Korea's major trading partners, exports to the United States increased by 16.2 percent, exports to the EU increased by 13.2 percent, and exports to India increased by 11.0 percent.
Weak Domestic Demand Intensifies Domestic Competition
China's sluggish domestic demand and economic downturn have not only led to a steady decline in imports but also increased competition in the domestic market. 2023 will see the communist regime continue to make systematic efforts to stimulate consumption to increase domestic demand.
To encourage car sales, several local governments in China are offering subsidies for car purchases. The government and various enterprises are providing subsidies for car purchases simultaneously.
According to the "Analysis of the national passenger vehicle market in February 2023" released by the China Automobile Dealers Association on March 8, retail sales from January to February totaled 2.679 million units, down 19.8 percent year-on-year, while production of passenger vehicles fell 15.1 percent from January to February.
In February, major Chinese auto manufacturers BYD and Changan Auto started cutting prices for their most popular car models as both competed for sales. BYD and Changan Auto rank first and third respectively in terms of retail sales in China. According to a March 11 report in CCP state media Sina Finance, BYD and Changan Auto's price cuts, as the industry's leaders, are of great significance, and auto industry insiders are worried that such price wars are turning suicidal.
According to the report, Zhang Xiang, director of a renewable energy research institute in China, also said that the Chinese auto industry has excess production capacity now, and if production and sales are too low, the production lines won't be able to maintain operations. For larger auto enterprises, maintaining constant production is more important than making a profit or reducing losses.
Uncertainty as Global Supply Chains Relocate
International demand for Chinese products is also declining.
China's total exports from January to February were $506.3 billion, down 6.8 percent year-on-year.
The United States is China's top export destination. China's exports to the United States have been falling year-on-year since August last year, and the decline has been steadily increasing, falling 21.8 percent year-on-year between January and February.
Fang Qi, a senior Chinese finance expert in the United Kingdom, told The Epoch Times on March 10: "China's exports to major trading partners such as the EU, the United States, and Japan all fell from January to February, while only exports to Russia rose by 19.8 percent and ASEAN countries by 9.0 percent.
"But China's trade surplus used to be contributed by the United States. The United States, the EU, and Japan have gradually reduced their dependence on China's supply chain. On the one hand, the U.S. imports and exports to Europe, Mexico, and other countries in the Asia-Pacific region such as Vietnam and India have increased," he said.
"Massive withdrawal of the United States and Japanese supply chains from China will subsequently push the supply chains of the EU and Taiwan to move out of mainland China as well."
A sharp drop in exports to the United States will certainly affect China's foreign exchange earnings and economic recovery in 2023.
A March 10 report in the CCP's state media, Economic Daily, claimed that the press in Russia, Kenya, and South Africa all said that China's performance over the past five years was amazing and could provide opportunities for the world in the future.
Current affairs commentator Li Yiming told The Epoch Times on March 11, "The CCP and Russia are getting very close, and the CCP is infiltrating and investing heavily in Kenya and South Africa."
In terms of the reasons behind the United States and EU reducing their imports from China, Li believes that the United States simply has given up hopes on the CCP instituting political change through its economic development as the western world once believed it would back in the 1980s.