Domestic Violence Commissions Proposals by the Government and Labor
The federal government and the opposition have both promised to create a commissioner to oversee the prevention of domestic violence against women and children.
The Coalition will spend $22.4 million (US$16.1 million) over the next five years on a commission to look at domestic, family and sexual violence under the next national plan to protect women and children.
"The next national plan will be an ambitious blueprint to end violence against women and children, but it must be more than words," Minister for Women Marise Payne said on Nov. 24.
"The new Domestic, Family and Sexual Violence Commission will have responsibility for monitoring and reporting on accountability and evaluation frameworks against the next National Plan to ensure it delivers real and tangible actions that prevent violence, intervene early and better supports victim-survivors."
The Morrison government plans for the commission to be classified as an executive agency under the Public Service Act and led by a chief executive or Commissionerwhose key priorities would be set out in a public Charter, and Operating Principles approved by the Minister for Women.
Payne said the announcement builds on the $260 million National Partnership Agreement on Family, Domestic and Sexual Violence Responses over the 2021-22 and 2022-23 period to boost the capacity of frontline services.
The commission will support the government in matters regarding policies, as well as cooperation and transparency between the Commonwealth, states and territories in meeting the targets and objectives of the next national plan.
Meanwhile, opposition leader Anthony Albanese also announced he would appoint a commissioner to coordinate gendered violence prevention should the Labor win power at next year's federal election.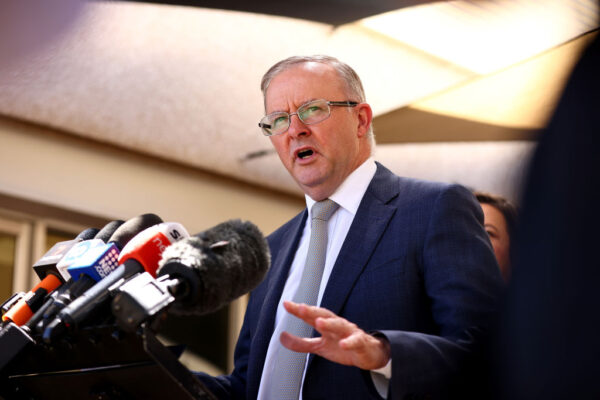 Albanese promised to spend $153.4 million over the next four years on 500 additional community sector workers to support women in crisis, with half of these workers to be located in rural and regional Australia.
The rural workers will be appointed to address the needs of women that need support in finding housing.
"Regional communities are particularly hard hit by this lack of housing. And it's a major issue. In addition, women and children need financial advice. They need that support when they're vulnerable when they are needed so that they feel secure enough to seek safety," Albanese said at Karabar on Nov. 24.
The opposition leader also said that the commission could be appointed to work and coordinate action across not just state and territory governments but also with non-government organisations to address the increase in domestic violence since the COVID-19 pandemic.
Under Labor's plan, the commissioner would report yearly on progress under successive national plans to stop the violence. It would also be able to lift profiles on violence reports.
In a speech made to Bayside Women's Shelter on Nov. 14, Albanese accused the Morrison government of failing to adequately fund support services and accommodation.
Albanese said almost ten thousand women a year are turned away from shelters; 1 in 3 calls to legal assistance go unanswered, and police are called to a domestic violence incident every two minutes.
Extra funding would also be used to provide shelters with an extra case manager and community organisations with a financial counsellor.
Currently, the 2022 Australian federal election has not yet been announced, but it must be held on or prior to May 21, 2022.
AAP contributed to this report.