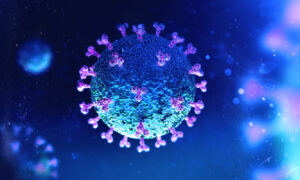 While "Eris" EG.5 is still the dominant variant in the United States, scientists are weighing in on a new strain of the COVID-19 virus, BA.2.86.
Unofficially dubbed "Pirola," a blend of the Greek letters Pi and Rho, this BA.2.86 variant of omicron was initially detected in Denmark in July and surfaced in the United States in August.
International health officials have not yet classified Pirola as a variant of concern but have been closely monitoring it since Aug. 17. The World Health Organisation (WHO) is currently tracking three variants of interest and seven variants under monitoring while continuing to call for better surveillance, sequencing, and reporting of COVID-19 as this virus continues to circulate and evolve.
Pirola Has Far More Mutations
Notably, Pirola has more than 30 mutations in its spike protein. The virus uses the spike protein to infect human cells.
The substantial number of mutations initially raised concerns among virologists, who feared this variant might partially evade earlier immunity from previous exposure, whether from natural infection or prior vaccination.
"Such a high number of mutations is notable," infectious diseases specialist Dr. Scott Roberts told Yale Medicine, adding that it is similar to the number of mutations that differed between delta, one of the early COVID-19 strains, and omicron.
In contrast, there were only one or two mutations from XBB.1.5 to EG.5, he said, which was expected. XBB.1.5—or "Kraken"—is another variant of omicron that was a dominant strain in the United States before being overtaken by the Eris variant.
As case numbers are low, it is unclear whether there are any distinctive and unique symptoms of the new variant, apart from those caused by previous strains, including runny nose, coughing, sneezing, headache, sore throat, fatigue, aches, and altered senses of smell and taste.
People who are older, have compromised immune systems, or suffer from multiple other conditions are at higher risk for more severe effects, including chest pain and shortness of breath.
How Dangerous Is Pirola?
New experiments worldwide are examining how well the antibodies of those infected might be able to fend off Pirola.
Researcher Yunlong Cao, who holds a doctorate in physical biochemistry from Harvard, discovered in experiments that Pirola is antigenically distinct compared to XBB.1.5. This means it "can significantly escape" antibodies induced by XBB-infection or vaccination.
However, Pirola's ability to cause infection may be much lower than that of XBB.1.5 and Eris, he added.
Researchers at the Karolinska Institutet in Sweden have different thoughts.
"Overall, it doesn't appear to be nearly as extreme a situation as the original emergence of Omicron," wrote principal researcher Benjamin Murrell in a post on X (formerly Twitter) on Sept. 1. "It isn't yet clear whether BA.2.86 (or its offspring) will outcompete the currently-circulating variants, and I don't think there is yet any data about its severity, but our antibodies do not appear to be completely powerless against it."
The U.S. Centers for Disease Control and Prevention (CDC) has indicated that an updated vaccine will be available in mid-September.
"The updated COVID-19 vaccine, which will be available in mid-September, will likely be effective at reducing severe disease and hospitalization. Immune responses generated from prior infection also help protect against severe outcomes of COVID-19," the CDC assessment reads.
"The assessment as to the impact of BA.2.86 on currently approved or authorized therapeutics is unchanged. Examination of the mutation profile of BA.2.86 suggests that currently available treatments like nirmatrelvir-ritonavir (Paxlovid), remdesivir (Veklury), and molnupiravir (Lagevrio) will be effective against this variant," it went on.
The United States is witnessing a rise in COVID-19 hospitalizations for the first time since the public health emergency ended in May. However, this is likely driven by XBB lineage viruses rather than the Pirola variant, the CDC added.
Eris: Still Dominant in the US
While Pirola appears to have become somewhat established in the population, it is not as widespread as Eris, which has dominated transmission in the United States since August.
First detected in February 2023 and found in over 50 countries, Eris currently accounts for about 21.5 percent of all cases in the United States as of Sept. 6.
Eris has an additional spike protein mutation called F456L, which may help it spread faster. It is designated as a variant of interest (pdf) by the WHO, meaning it possesses genetic characteristics that could increase its transmissibility, virulence, and ability to evade vaccines.
However, there's no evidence that it causes more severe symptoms than previous omicron variants.
Health officials are releasing updated COVID-19 boosters, RSV vaccines, and flu shots in anticipation of an expected wave of COVID-19, flu, and RSV cases as fall approaches.