England's COVID-19 Self-Isolation Period Cut to 5 Days
People in self-isolation after positive COVID-19 tests will be allowed to end isolation one day earlier, the UK's Health Secretary Sajid Javid told Parliament on Thursday.
It comes after the government was urged to amend the rule to alleviate staff shortages in health care, teaching, and other industries.
From Jan. 17, people who test positive for the CCP (Chinese Communist Party) virus in England can leave isolation on day six once they have two consecutive negative lateral flow tests taken 24 hours apart. The day the test is taken is day zero.
This is one day shorter than under the current rules and in line with the recommendation of the U.S. Centers for Disease Control and Prevention.
Without tests, the default length of self-isolation remains 10 days.
Those who are released early by test results are "strongly advised to wear face coverings and limit close contact with other people in crowded or poorly ventilated spaces." They are also told to work from home if possible and to minimise contact with people at higher risk of getting seriously ill from COVID-19.
Self-isolation rules for close contacts of COVID-19 cases have not changed, meaning unvaccinated adults are required to isolate for 10 days if one of their close contacts test positive for the CCP virus.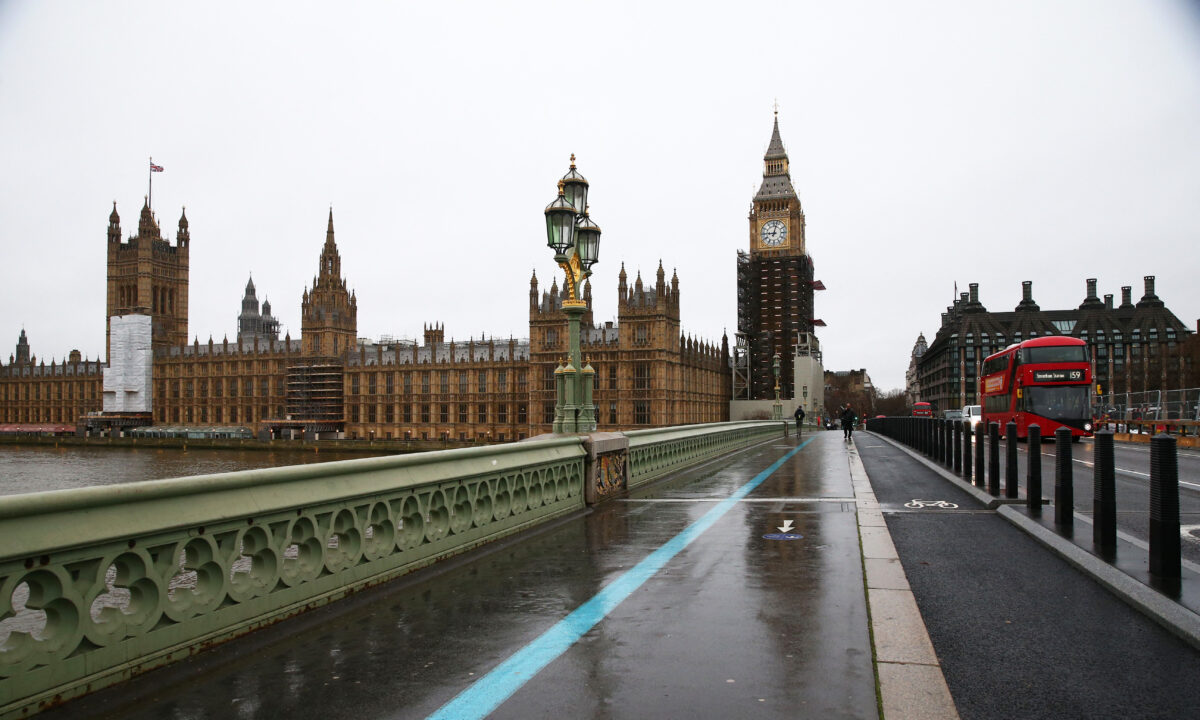 The UK Health Security Agency (UKHSA) previously refused to shorten the self-isolation period for positive cases to five days like the United States, misstating that the isolation clocks in the two countries start at different points.
It later amended a blog post but again declined to cut the self-isolation period, citing modeling results that suggested 10 to 30 percent of people "will potentially still remain infectious on day 6, if no re-assurance tests are performed at this point."
Announcing the change on Thursday, the Department of Health and Social Care said between 20 and 30 percent of people are still infectious on day six.
But it added the UKHSA model suggests that with the current rules, two lateral flow tests would reduce the number of infectious people released from isolation to 6 percent, and cutting the isolation period by one day will only increase the risk by 1 percentage point.
The announcement comes as the number of NHS staff off work for COVID-19 appears to be falling.
While there has been a 2 percent rise week-on-week between Jan. 2 and Jan. 9, the daily data suggest that, after reaching a peak of 49,941 on Jan. 5, the case numbers have dropped every day since then.
The largest percentage drop was in London, where 4,167 hospital staff were ill with COVID-19 or had to self-isolate on Jan. 9, down 13 percent on the previous week's 4,765.
Meanwhile, eastern England fell 10 percent week-on-week from 3,320 on Jan. 2 to 2,984 on Jan. 9; the southeast was down 10 percent to 3,590; and the northeast and Yorkshire fell by 8 percent to 8,125. In southwest England, there was a 1 percent drop to 2,974.
While staff absences due to COVID-19 rose by 20 percent week-on-week in the Midlands from 7,931 on Jan. 2 to 9,484 on Jan. 9, there has been a drop each day from a peak of 10,690 on Jan. 6.
There is a similar picture in the northwest, up 19 percent week-on-week from 7,338 to 8,707 on Jan. 9, but with numbers falling each day from a peak of 10,370 on Jan. 5.
NHS Vaccine Mandate
Javid doubled down on the vaccine mandate for health workers amid speculation that the government may reverse the decision after the health secretary was confronted by an NHS doctor and with the Omicron variant's increased capacity to evade immunity.
Updating MPs, Javid said those who could get the CCP virus vaccinations but chose not to "have also been able to enjoy the freedoms that they have today because they are standing on the shoulders of those who have come forward, the 9 out of 10 people across the UK who have stepped forward to get the jab."
The health secretary said that the proportion of NHS Trust health care workers vaccinated with at least a first dose has increased from 92 percent to 94 percent, and ministers "remain committed" to making vaccination a condition of employment from April 1.
PA contributed to this report.