EDMONTON—The mother of one of two young police officers killed in Edmonton by a teenage shooter said the family is filled with sorrow and pain.
Laurie Ryan, of Spruce Grove, Alberta, said on social media that her youngest son, Brett Ryan, was lost in the line of duty as an Edmonton Police Service (EPS) officer, after serving "his community with pride and commitment."
"He loved his wife and unborn baby, his brothers and us, his parents," his mother wrote on March 16. "RIP my son, we've been blessed to have you for the past 30 years but today your loss is unbearable."
She thanked those who helped her son.
Constable Ryan and Constable Travis Jordan were rushed to hospital by fellow police officers who "worked valiantly to save their lives en route," Police Chief Dale McFee said on March 16.
Ryan, age 30, and Jordan, age 35, were killed that day by a 16-year-old armed with a gun as they responded to a routine call for a domestic disturbance.
After shooting police, the teenager shot and severely wounded his 55-year old mother. According to police, the teenager then shot and killed himself. His father, 73, was in a different room at the time and not injured.
Brett Ryan
Ryan previously served as a paramedic in Saddle Lake, Alberta, from 2012 to 2015, before becoming a police officer five-and-a-half years ago. He is survived by his wife, Ashley Ryan, who is a paramedic, according to the Alberta Paramedic Association.
The couple was expecting their first child. A fundraiser has been organized by the association "to support Brett's wife Ashley in this difficult time."
Garret Ryan, brother of the murdered police officer, said on Twitter on March 16: "I've lost my brother today. Life as I know it has changed forever. Words cannot describe how much I love my big little brother."
He added, "I am so proud of him, his accomplishments, and the man he has become. I'll miss him always. Catch you on the other side Brett. I love you forever."
Travis Jordan
Jordan grew up in Coldbrook, Nova Scotia, and is survived by his wife, mother, stepfather, and sister Sheena Jordan.
In a social media post on March 17, his sister wrote, "My baby brother had a wife, dogs he loved more than life, he had parents that he called almost everyday driving home from every shift, he had a sister, a nanny, nieces and a nephew that he loved very much."
She said her brother had "talked about being a police officer since the day he could talk."
"My brother and his wife flew across the country leaving their families behind to protect and serve the citizens of Edmonton. My brother put his uniform on every single day with pride," she wrote.
She said her brother "lived for his job."
"My brother LOVED his job. My brother was good at his job. My brother was ONE of the best, and every single person who got to work with him, got helped by him, and perhaps even got a ticket are lucky they had him," said his sister.
Calling it "a senseless act, a tragic act," due to a "broken mental health system," Jordan said her brother would no longer get to "go home to his wife," or call his parents. She added her brother was "the most selfless, incredible guy I have ever known."
"There's no way heaven needed him more than we did," she wrote, posting various photos of her brother clearly happy to be with his nieces and nephew.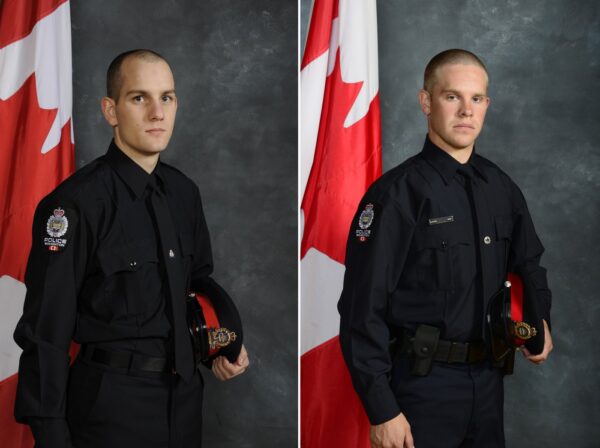 Communities in Mourning
On the afternoon of March 16, a line of RCMP, Kenville Police Service, and Canadian military police drove slowly past the family's home in Coldbrook to pay their respects to the family.
"The call itself was a non-violent domestic dispute where a mother was having trouble with her 16-year-old son," EPS Deputy Chief Devin Laforce said on March 17. "There was nothing to really indicate this was a dangerous or high-threat violent response for our members."
Laforce said the mother was shot as she tried to get control of the gun from her son. She is in hospital and unresponsive. The teenage boy had no prior criminal record, but police had visited the home previously, with one of the incidents being a mental health call.
"Nova Scotia's Constable Travis Jordan was tragically killed yesterday morning while on duty in Edmonton. My heart goes out to Const. Jordan's family and friends," wrote Premier Tim Houston in a Facebook post on March 17.
"Rest in peace, Const. Jordan. The world is worse off without you in it."
Across Edmonton, the community is mourning the lives of the two young officers. City hall has condolence books available. Various city landmarks including city hall, the High Level Bridge, Commonwealth Stadium, Walterdale Bridge, and Muttart Conservatory were lit in blue lights to honour Jordan and Ryan.
The University of Alberta announced it would lower its banner to half-mast from Mach 16 to 20 to honour the two young police officers.
At Edmonton's West Division Police Station, flags were flying half mast, and the city's residents have left a collection of cards and flowers in front of the station.
Fallen Officers
The Alberta government maintains a list of fallen officers as part of Alberta Police and Peace Officers' Memorial Day, which takes place annually at the provincial legislature on the last Sunday of September. The list contains all officers killed in the line of duty since 1876.
The Alberta RCMP also maintains a Wall of Honour, going back to 1874.
The last time a police officer was killed on duty in Edmonton was 2015, when Constable Daniel Woodall was shot while trying to enter a residence to arrest a suspect for a hate crime complaint. The suspect opened fire and shot the police through the door. Sgt. Jason Harley was struck by a round that went through his body armour, but survived. The suspect set the house on fire and is believed to have taken his own life.
The same year, RCMP Constable David Matthew Wynn died from a gunshot wound in St. Alberta, Alberta, on Jan. 21, 2015, while attempting to arrest a suspect in a stolen vehicle investigation.
On New Year's Eve, Dec. 31, 2020, Calgary Police Sergeant Andrew Harnett was killed after pulling over a vehicle to check its licence plate during a traffic stop. A 17-year-old driver was charged with first degree murder in the death of Harnett, who died in hospital from his injuries after being struck by the vehicle as it fled.
Harnett was a former military police officer who was expecting his first child at the time of his death.
In 2005, four RCMP officers were ambushed and killed while on duty near Mayerthorpe, Alberta: Constables Peter Schiemann, Anthony Gordon, Brock Myrol, and Leo Johnston.
In 1990, EPS Constable Ezio Faraone, a member of the tactical team, while responding to an armed robbery was shot by a second suspect hidden from view in the vehicle.
The Canadian Press contributed to this report.