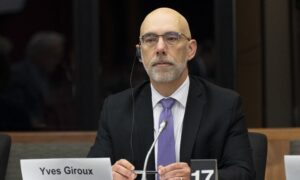 The federal government is asking Parliamentary Budget Officer (PBO) Yves Giroux not to publicly release internal data given him by the Department of Finance for his analysis of the New Canadian Dental Care Plan outlined in Budget 2023.
Giroux wrote a letter to Finance Minister Chrystia Freeland on May 2 asking for a number of internal documents and figures to inform his analysis of the government's public dental care plan allocation in the most recent budget, which said the plan will probably cost $7 billion more than the original estimate.
He requested the "eligibility criteria, details on the types of procedures covered, and co-payment rates" that the Finance Department used to estimate the plan's cost, as first reported by Blacklock's Reporter.
Giroux also asked the department for descriptions of "any relevant assumptions" included therein that contributed to Ottawa's costing of the plan, such as inflation-indexed income levels and plan administration costs.
He gave a deadline of May 19 and informed the department that since his office would post its response on the PBO's website, it "should not be marked ''confidential.'"
"If this information is confidential, please clearly mark it as such, either on the electronic spreadsheet or the hard copy version," Giroux added.
The Finance Department's Senior Assistant Deputy Minister Michelle Kovacevic replied to Giroux on May 19 with all the requested information, but asked that it not be released publicly.
"We respectfully request that you do not release or disclose the data publicly or share it outside your organization," Kovacevic said in an accompanying letter.
She did not give a reason for requesting that the PBO keep the information private.
Dental Care Plan
Giroux's office previously estimated in a June 2022 report that the government's new dental care project will cost more than $9 billion over a five-year period.
The PBO also estimated the program would benefit around 1.4 million over 2022-2023 and predicted that number would increase to around 5.8 million by the 2026-2027 fiscal year.
The dental care program was one of the conditions NDP Leader Jagmeet Singh and Prime Minister Justin Trudeau agreed upon after the Liberals and NDP entered into a supply-and-confidence agreement in March 2022.
The Liberal government says it will begin rolling out the program by the end of 2023 and plans to fully implement it by 2025.
Ottawa previously budgeted about $6 billion for the program, but now estimates it will cost around $13 billion over the next five years. Beyond those five years, the government projects ongoing expenses will cost more than double annually, going from $1.7 billion per year up to $4.4 billion.
"The increase in the cost of dental care is due to the fact that we underestimated the need in Canada for families to send their kids to see a dentist," Trudeau told reporters on April 3.
"In a rich country like Canada it's not right for everyone not to have dental care."