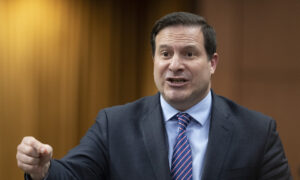 The federal government has tabled legislation aimed at amending terrorism provisions in Canada's criminal code they say have previously blocked Canadian individuals and organizations from providing humanitarian aid in Afghanistan.
Bill C-41 will "create a legal pathway" for Ottawa to work with humanitarian partners, which includes non-government organizations (NGOs) such as the Canadian Red Cross Society, to deliver humanitarian aid like food and clothing to people in Afghanistan, says Public Safety Minister Marco Mendicino.
"The situation in Afghanistan is dire," Mendicino said on March 9 in Ottawa while announcing the proposed legislation, which he is sponsoring.
Currently, Canadian humanitarian workers cannot deliver aid in areas controlled by terrorists without being prosecuted.
The newly tabled Bill C-41 would allow aid workers to apply for a five-year exemption from prosecution in order to help people in crisis in a geographic area identified as being "controlled by a terrorist group."
Humanitarian groups have said they were told by Global Affairs Canada over a year ago that purchasing goods in Afghanistan would constitute paying taxes to the Taliban, which would be legally categorized in the Canadian Criminal Code as contributing to a terrorist organization.
Mendicino added that an estimated two-thirds of Afghans will need international assistance in 2023 to survive.
"This bill meets the urgency of the moment, creating a streamlined process, giving NGOs like the Canadian Red Cross the flexibility that they need to help those in need in Afghanistan," Mendicino said.
Joining him for the announcement were Justice Minister David Lametti and International Development Minister Harjit Sajjan, along with other Liberal MPs.
Aid Workers
The Liberal government's tabling of Bill C-41 comes more than a year after many of Canada's allies swiftly altered their national laws and issued exemptions to ensure aid workers could keep working in Afghanistan following the Taliban's takeover of Kabul in August 2021.
Mendicino said the Liberal government is aiming to pass the legislation as quickly as possible and will also be looking to work closely with NGOs like the Canadian Red Cross to ensure efficiency.
A parliamentary committee heard from an expert witness in February that the Taliban take a "significant share" of humanitarian aid intended to be provided to the Afghanistan people.
Horia Mosadiq, director of the Safety and Risk Mitigation Organization, told the House of Commons Subcommittee on International Human Rights that several United Nations agencies have reported that much of the aid ends up going to Taliban soldiers, "some of whom are involved in committing war crimes in Afghanistan."
The Canadian Press contributed to this report.