First Responders Silently Protest Mandatory COVID-19 Vaccination at Ontario Legislature
First responders stood silently in Queen's Park in Toronto at the provincial legislature on Sept. 13 to protest mandatory COVID-19 vaccination programs.
"First Responders for No Mandates" read one sign seen among the protesters, online videos of the event show. "Frontline for Freedom" read another.
Another sign said, "Toronto stands with Calgary," an apparent reference to a silent protest against mandatory COVID-19 vaccination by police officers and firefighters in Calgary on Sept. 7.
Protests at Hospitals
The protest was one of many against mandatory vaccinations for public employees, including health workers, that took place across Canada on Sept. 13.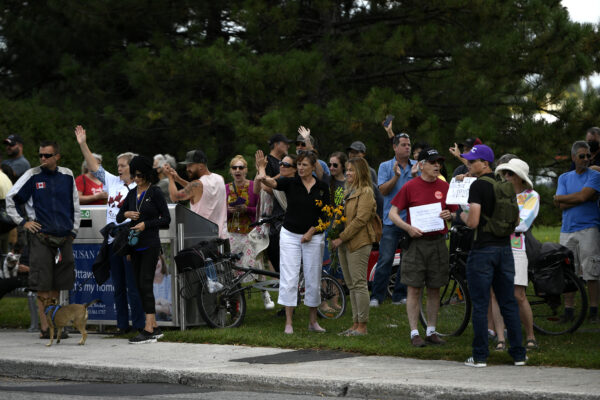 Many of the protests held at hospitals proved especially contentious as political leaders and hospital administrators expressed concern they would cause stress for medical workers and patients.
Ahead of the protest slated for the Queen Elizabeth II Health Sciences Centre in Halifax on Sept. 13, Nova Scotia Health issued a statement asking protesters to allow patients and families access to care and to let staff, including physicians, free and clear access to work.
"It is disappointing and disheartening to know this may happen, given the hard work of health-care workers over the last year and a half," stated Nova Scotia Health.
"Protesting at hospitals will further contribute to the stress and fatigue of our teams and we respectfully ask that protesters reconsider or choose a more appropriate location."
Canadian Frontline Nurses, the organization behind the protests at the hospitals, didn't return repeated requests for comment about the protests on Sept. 13.
On its website, the organization called for the protests to be silent and peaceful.
"This will be a silent vigil to honour those affected by measures put in place over the last year and half.  Our cries and concerns have been ignored for too long," the group said.
"Please join us in creating a memorial tribute, by bringing flowers, pictures, cards, letters to share stories in honour of those affected. Share your loss and grieving, to bring out the truth on what is happening across Canada and why we are taking a stand to tyrannical measures and government overreach."
Sean Taylor, an emergency room nurse who has taken part in such protests in the past, defended the decision of health workers to hold the protests by hospitals as he said that's their place of employment. Taylor is also the People's Party of Canada candidate for the riding of South Okanagan-West Kootenay.
"When Telus goes on strike, you don't picket in the park. You picket at the Telus offices," he said.
The protests appear to be open not only to health workers but also to the general public.
Dr. Michael Warner, an intensive care physician at the Michael Garron Hospital in Toronto, explained his concerns about the protests at hospitals in a video on Twitter.
"People are entitled to protest and make their voices heard. At the same time, hospitals are not the place to do it," he said.
"Hospitals are sacred places of healing. It's where people go for safety, for protection, for treatment, for love, for peace and, sometimes, for death. They're not the place to be yelling and screaming and intimidating."