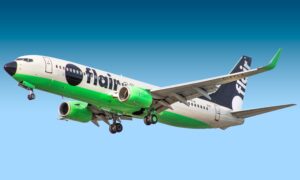 Flair Airlines has filed a $50-million lawsuit after four leased passenger jets in active use were allegedly repossessed in the middle of the night on March 11 by a creditor, causing the cancellation of dozens of flights.
Flair Airlines said in a March 15 news release that Airborne Capital took "unlawful and immeasurably destructive actions" at a time when many customers were travelling with children on spring break from school. The lawsuit claims damages and alleges breach of contract, fraudulent misrepresentation, and "conspiracy," and further alleges there was a payment arrangement in place when the creditor took steps to seize the aircraft.
Calling the repossession of the four Boeing 737 Max aircraft—representing one-fifth of Flair's 19-plane fleet—"unexpected and unwarranted," the discount airline said it caused "enormous disruption" to the company's customers.
Flair said that it had been "relentless" in trying to make air travel affordable to Canadians, but since its inception in 2017, had "faced significant resistance in challenging the status quo of an industry weighted by monopolistic practice."
The discount airline, which flies to 35 destinations in Canada, Mexico, and the United States, claims to have saved Canadians over $252 million in 2022, and stated it employs 1,000 people across the country. In September, the discount carrier said it planned to expand its fleet by the end of this year to 30 aircraft flying on 70 routes.
In legal documents filed in Ontario Superior Court, Flair Airlines alleges that Airborne Capital and other affiliated leasing corporations "secretly" found a more profitable leasing arrangement for the aircraft leased to Flair. The discount airline also alleges the Dublin, Ireland-based creditor "set Flair up" for defaulting on its payments, and illegally terminated the leases without notice.
"The lessors sent agents to seize the aircraft in the middle of the night as passengers were boarding planes for spring break vacations," said Flair. According to the company, agents showed up at airports in Toronto, Edmonton, and Waterloo, Ontario, at 3 a.m. EDT on March 11, confiscated the registration certificates, and removed the technical logs from onboard the airplanes, rendering them unable to legally fly.
"The seizures were orchestrated in a bad faith and malicious manner that inflicted the maximum possible harm on Flair, including by interfering with its passenger relationships and trust," said Flair's statement of claim, which has not been proven in court.
Flair did not return requests for comment by press time.
Alleged Arrears
For its part, Airborne Capital, which also did not return requests for comment by press time, stated earlier this week that Flair had "regularly" been late or missed payments in the five previous months, with arrears of millions of dollars.
"Terminating an aircraft lease is always a last resort, and such a decision is never taken lightly. In this case, following numerous notices to Flair, it again failed to make payments when due and Airborne took steps to terminate the leasing of the aircraft," said a company statement on March 14.
Flair, based in Edmonton, issued a notice on Twitter on March 11, stating passengers had experienced service disruptions due to what the airline called a "commercial dispute." Customers were told they would either be rebooked or could rebook their own travel on an alternate airline and receive a reimbursement from Flair within seven days.
A number of Flair flights were cancelled on the morning of March 11, but the airline said it repositioned three spare aircraft to fill the gap.
To complicate the issues faced by Flair, the Ottawa International Airport Authority (OIAA) announced March 15 that it was revoking the license of Scotland-based Menzies Aviation, following written warnings and "a degradation of service levels," according to Canadian Aviation News. Both Sunwing Airlines and Flair use the company to handle baggage loading and plane marshalling as part of ground operations at the Ottawa airport.
"The issues reached untenable levels in the past week, leading the OIAA to provide Menzies with a 30-day notice of termination of its operating license at the airport on Monday, March 13," said OIAA.
The Canadian Press contributed to this report.