Flood Risks Remain for NSW as Rains Move to Victoria
The skies have cleared in part of the Australian state of New South Wales (NSW) where major flooding has wreaked havoc and one man has died.
A man in Sydney's north-west has died after being trapped in his car by floodwaters, Nine News reported. Police confirmed the man's body was found in Cattai Creek in Glenorie just after 1 p.m on Wednesday.
Around the state, there have been about 24,000 people evacuated and about 60,000 people are on standby to evacuate. Around 11,000 calls for help and 950 flood rescues were recorded in the past few days and 162 schools remain closed.
Several major flood warnings and a number of moderate and minor flood warnings are still in place, with the areas of greatest concern being Moree, the Upper Hunter around Singleton, Grafton, parts of the Central Coast and the Hawkesbury-Nepean catchment.
The Bureau of Meteorology forecasted that there will be no major rainfall in the state over the next week, giving the rescue efforts a reprieve as they deliver essential supplies to isolated communities.
However, NSW Premier Gladys Berejiklian has warned that although the rain stopped the crisis is not over yet with rivers still rising, and it takes time for the floodwaters to recede.
"We're certainly not out of the woods," Berejiklian said on Wednesday. "What we still have to be aware of is the fact that thousands and thousands of people are still on evacuation warnings, that the rivers will continue to swell, that catchments will continue to experience flows of water not seen in 50 years and in some places 100 years."
"The fact that we haven't had any fatalities is simply a miracle," she said.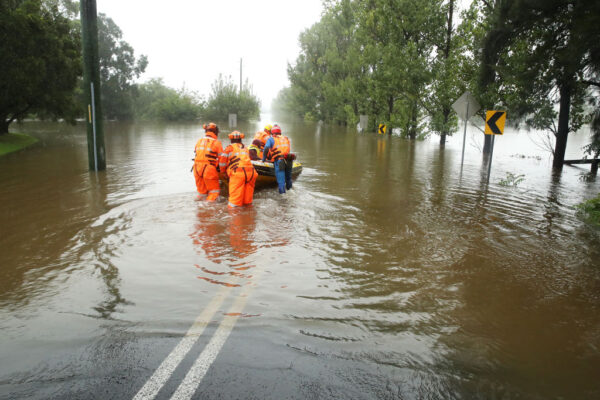 Deputy Premier John Barilaro, the State Emergency Service (SES), Rural Fire Service, the Australian Defence Force (ADF), and Resilience NSW are coordinating the clean-up work. About 1,600 SES volunteers have joined the rescue efforts, while the ADF has offered helicopter support and troops on the ground.
"Many of these who are reservists will be giving up their Easter," David Elliot, the Police Minister told AAP.
Meanwhile, Victoria has begun to receive flood and severe weather warnings as the rain moves southward. Damaging winds and heavy rain which may cause flooding are forecasted for parts of the state.
Flood watches are current for Bemm, Cann, Genoa, Snowy, Thomson, Latrobe, and South Gippsland River catchments, along with Traralgon Creek and the Otway coast. Locations that may be affected include Apollo Bay, Wonthaggi, Tidal River, and Yarram.
People who live along rivers and streams are told to monitor the latest weather forecasts and be ready to evacuate once floods develop.