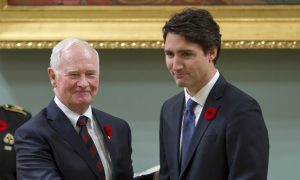 The Trudeau government-appointed special rapporteur on foreign interference will have a say in defining his own mandate, former governor general David Johnston said on March 17.
Johnston and federal officials will work together on defining the scope and duties associated with his new role before they're announced publicly, the new rapporteur told The Canadian Press in a statement.
Prime Minister Justin Trudeau said on March 15 Johnston would serve as "independent special rapporteur" to look into foreign interference in the past two elections.
The move came amidst calls to hold a public inquiry on the matter, as a steady stream of leaked national security information has appeared in the press since November.
Johnston told The Canadian Press he feels privileged by the appointment.
The Epoch Times reached out to his office at the Rideau Hall Foundation but didn't immediately hear back.
While Trudeau has decided against holding a public inquiry, he said he would abide by a rapporteur's recommendation to hold one.
The Conservative Party and the Bloc Québécois have criticized Johnston's appointment, pointing to his close relationship to Trudeau and his membership with the Trudeau Foundation.
NDP Leader Jagmeet Singh has supported it, saying on March 16 that Johnston is someone with a "strong reputation of integrity."
Trudeau reacted to criticism against the appointment by saying there is no one better placed to put the interests of the country first than Johnston.
"I'm really hoping that the nomination of Mr. Johnston is going to be able to bring down the temperature on this issue," he said on March 17 in a press conference.
The Canadian Press contributed to this report.