Grant Newsham: Beijing 'Taking Notes' on Russia-Ukraine War As It Plans Taiwan Takeover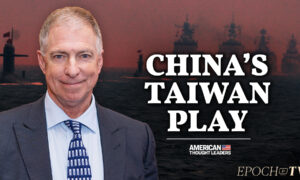 "If it turns out that Putin is able to take all of Ukraine or even a huge chunk of it and get away with it, the Chinese will take note," says Grant Newsham, a retired U.S. Marine Colonel and Senior Fellow with the Center for Security Policy. "The Chinese are going to be emboldened to finally settle the Taiwan issue once and for all."
At the 2022 Conservative Political Action Conference (CPAC), we sat down with Newsham to discuss the Russia-Ukraine war, Chinese psychological warfare, and the China-Russia alliance.
To cripple Russia's war effort, sanctions "have to go after China as well," argues Newsham. "If it's just Russia, China will back them up."
Subscribe to the American Thought Leaders newsletter so you never miss an episode.
Follow EpochTV on social media:
Facebook: https://www.facebook.com/EpochTVus
Twitter: https://twitter.com/EpochTVus
Rumble: https://rumble.com/c/EpochTV
Gettr: https://gettr.com/user/epochtv
Gab: https://gab.com/EpochTV
Telegram: https://t.me/EpochTV