Group Claims Injuries Are Rejected as Most COVID-19 Jab Compensation Claims Are Unsuccessful
[ad_1]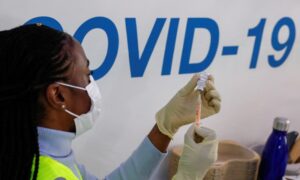 A group representing those left severely disabled by mRNA jabs says people are getting rejected by the UK's vaccine injury scheme despite injuries as, to date, only 44 claimants have been paid out.
According to the NHS's response to a recent Freedom of Information (FOI) request, in all, 3,842 COVID-19 claims have been received by the Vaccine Damage Payment Scheme (VDPS), though many of these are not yet processed.
This is up from 920 claims in March 2022.
The VDPS is a one-off tax-free payment of £120,000 ($160,000) if someone is proven to have been severely disabled or has died as a result of vaccination from diseases such as measles, mumps, and rubella (MMR), swine flu, and more.
In December 2020, ministers agreed to add COVID-19 to the scheme to demonstrate "government confidence in the safety profile" of any vaccine being used in the vaccination programme.
Vaccine Damage Payment
According to responses to the FOI, 44 claimants have been notified they are entitled to a Vaccine Damage Payment, which means over £5 million in all to date has been paid out.
Some 814 processed claims have been unsuccessful and a further 37 did not meet the eligibility criteria for medical assessment in accordance with the Vaccine Damage Payments Act 1979.
The NHS said that out of the 814 unsuccessful claims, 776 were rejected because the "independent medical assessor recommended that, on the balance of probabilities, that the vaccine did not cause the disability in question [causation]."
It added that 38 were unsuccessful because, although the claim met the criteria for causation, the independent medical assessor recommended that the vaccine has not caused severe disablement.
"Severe disablement" in these cases means at least 60 percent disabled.
In the UK, Moderna, AstraZeneca, and Pfizer-BioNTech vaccines have been approved for use. All three have legal indemnity protecting companies from being sued for damages.
Last year, after 48-year-old rock singer Lord Zion died after receiving an AstraZeneca jab, his fiancée, Vikki Spit, became the first person in the UK to receive compensation for a COVID-19 vaccine death.
VIB UK
Vaccine, Injured, Bereaved UK (VIB UK) spokeswoman Claire Hibbs previously told The Epoch Times that she has been unable to work after developing vaccine-induced immune thrombocytopenia and thrombosis (VITT) after taking the AstraZeneca jab in 2021.
The group is formed of 95 individuals who have either been severely injured or bereaved as a direct result of receiving a COVID-19 vaccine in the UK, but they are actively seeking more victims to speak out.
Hibbs told The Epoch Times that she believes that the majority of the claims that have been paid out are to the families of those who died from a jab, but also those where it can be proved they had a neurological disorder called Guillain-Barré syndrome.
Hibbs said that she and others seem to be getting rejected despite injuries due to not reaching the 60 percent disability requirement even though they accepted causation. She said that she is appealing the decision.
"After speaking to several people, it seems that the reason they [people with Guillain-Barré syndrome] have been paid out is because that is a permanent disablement, which can be proved and linked to the vaccine, whereas VITT, which is what I have got and several of the others that have been rejected, there's no long-term data, permanent disablement can't be proved," she said.
Claims are handled by the National Health Service Business Services Authority (NHSBSA), an arm's length body of the Department of Health and Social Care.
An NHSBSA spokesperson told The Epoch Times by email that the average, non-COVID-19 vaccine-related claim takes around six months to process from the date it requests a claimant's medical records.
"This is because we need to wait for claimants' GP, medical providers, local authorities, or other relevant healthcare providers to gather records and send them to us and this can take time. This can vary from case to case and we're aware that a number of claimants have been waiting for longer for an outcome to their claim," she said.
"We appreciate the continued patience of claimants at this time. We will continue to do all we can to support claimants and to process all claims as quickly as possible. We're continuing to increase our resources to help facilitate this," she added.
Yellow card
Both the public and health professionals can report serious vaccine harms to the government's Yellow Card reporting site, which was set up in 2020 as an additional monitoring process for already-approved medicines. Out of the total number of 355,000 reports of "serious" side effects, fewer than 10,000 were reported by medical professionals.
With Yellow Card reporting, the Medicines and Healthcare products Regulatory Agency (MRHA) says that "conclusions on the safety and risks of the vaccines cannot be made on the data shown in the report alone."
[ad_2]

Source link