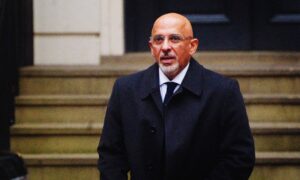 HM Revenue and Customs (HMRC) on Saturday admitted to "administrative errors" as a report said the tax office last year stated no government minister was under investigation when Nadhim Zahawi. was.
It comes as Prime Minister Rishi Sunak resisted pressure to sack Zahawi, who is now the Conservative Party chairman, from his Cabinet.
According to the Financial Times (FT), the HMRC told the publication on June 23, 2022, that no ministers were under investigation while Zahawi, who was the education secretary at the time, was being probed. This was less than two weeks before Zahawi was appointed Chancellor of the Exchequer following Sunak's resignation.
In a Twitter thread detailing what had happened, FT journalist Jim Pickard said the debacle began with the HMRC's response to a Freedom of Information (FoI) request made by Tax Policy Associates Founder Dan Neidle, who shared the thread.
On June 15, 2022, Neidle got a response from the HMRC saying one minister was under its investigation.
He then shared the response with Pickard, who was going to publish a story on it. But Pickard ended up pulling the story on June 23 after the HMRC said no minister was under investigation.
But on July 7, two days after Zahawi become chancellor and one day before the Independent reported that Zahawi was being investigated, the HMRC changed its answer again, saying there was one minister under investigation.
Neidle then filed a separate FoI request for internal communications regarding his original request and FT's inquiry.
According to Pickard, the 200-page emails showed that officials first poured over an inaccurate list that included the name of a senior Conservative MP whom they thought was a minister.
After realising their mistake, they then told Neidle no minister was under investigation, without realising they had only searched through part of the HMRC.
It's unclear when HMRC officials made a new search that found Zahawi's case. Pickard said he was told it was a coincidence that the correction came the day before the Independent story was published.
In a statement emailed to The Epoch Times, a spokesperson for the HMRC said officials regret the errors.
"We acknowledge that the processing of this FOI request was subject to a series of administrative errors, which we very much regret," the statement reads, referring to Neidle's first request.
"We corrected these errors as soon as they came to light and are confident that our most recent response to Mr. Neidle was both accurate and in line with the Information Commissioner's Office guidance," the spokesperson said, adding that the HMRC "cannot comment on identifiable taxpayers."
Under Pressure to Resign
Zahawi has been under pressure since UK media alleged that he had avoided tax by using Balshore Investments, an offshore company registered in Gibraltar, to hold shares in the polling company he co-founded, YouGov.
The former chancellor admitted on Jan. 21 that he had paid a penalty to HMRC to settle the dispute but insisted that his tax error was "careless and not deliberate" and he is "confident" he has "acted properly throughout."
Sunak said on Jan. 23 that he has asked new ethics adviser Sir Laurie Magnus to assess whether Zahawi had breached the ministerial code.
But the prime minister said Zahawi, whose position the Labour Party says is "untenable," will stay in his post during the inquiry.
Sunak had previously defended Zahawi against the tax allegations, telling Prime Minister's Questions on Jan. 18 that Zahawi "has already addressed this matter in full, and there's nothing more that I can add."
But Downing Street suggested on Jan. 23 that Sunak wasn't aware last week that Zahawi had paid a penalty.
Calls for Zahawi to step aside have grown louder after HMRC head Jim Harra said that there were "no penalties for innocent errors in your tax affairs."
Appearing before the Public Accounts Committee of the House of Commons on Thursday, Harra said: "So if you take reasonable care, but nevertheless make a mistake, whilst you will be liable for the tax and for interest if it's paid late, you would not be liable for a penalty.
"But if your error was as a result of carelessness, then legislation says that a penalty could apply in those circumstances."
Senior Tory MP Sir Jake Berry said it is "unsustainable" for Zahawi to remain in power, arguing it was necessary to step aside while under investigation so the public can have faith in the process.
Speaking on Thursday during a Cabinet away day at Chequers, the prime minister's country residence, Sunak maintained his position that he will "await the findings" of the investigation into whether the former chancellor broke the ministerial code.
Alexander Zhang contributed to this report.