Hundreds of Homes Inundated, Thousands Evacuated in Aussie Floods
Flooding rains continue to wreak havoc in the state of New South Wales (NSW) with the Bureau of Meteorology predicting the deluge will continue until Wednesday.
Hundreds of homes have been inundated and many thousands of people have been evacuated as rivers swell and break their banks.
More than 18,000 people have been told to evacuate and a further 15,000 were put on notice to standby for evacuation orders across the state.
A total of 54,000 people may be displaced.
Over 200 schools have closed and emergency crews have rescued 870 people from flooding, while emergency service fielded some 9,700 emergency calls.
The Bureau of Meteorology has released a long list of warnings for affected areas.
Western, Southern, and Northern Sydney
Three thousand people have been evacuated from along the Hawkesbury River which has seen the worst flooding since 1961.
Evacuation orders were issued for low-lying areas and an evacuation warning for caravan parks along the Hawkesbury River from Windsor to Wisemans Ferry is in place.
Major flooding is occurring along the Hawkesbury River at North Richmond, Windsor, as well as on the Colo River at Upper Colo and Putty Rd bridge where river levels are still rising. Moderate flooding is occurring along the Nepean River.
Major risks remain for residents in western Sydney, with another 50-100mm of rainfall expected before Wednesday.
Mid North Coast, Hunter, Western NSW
With Macleay River and Hastings River overflowing 15,000 people were told to evacuate from low-lying areas, including Macksville, Port Macquarie, Lower Macleay, and Kempsey CBD.
The region is facing the worst flooding in nearly a century, with another 100mm of rainfall expected before the rain is forecast to stop on Wednesday.
Major flooding has occurred at Bulga in the Hunter Valley while minor flooding may occur in the Lower Hunter. The danger alert has not been lifted yet.
The level of Macquarie River has peaked at Bathurst with minor flooding continuing. Parts of the region may gain a season's amount of rainfall as another weather system hits from the south.
Illawarra and South Coast
Flood watch alerts have been issued for Shoalhaven River, Bega River, and St Georges Basin.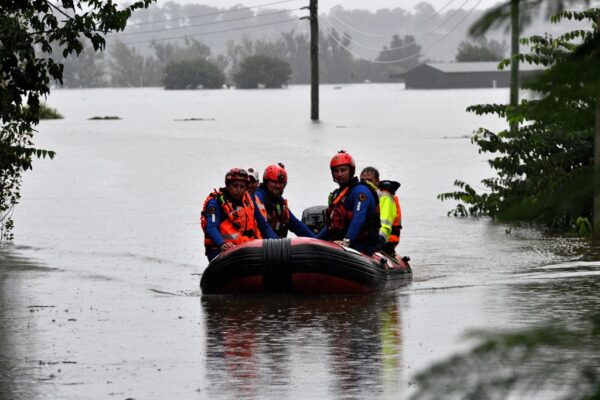 Government Assistance and Public Support
The federal government's natural disaster arrangements are activated for 38 local government areas, offering $1,000 per adult and $400 per child for those affected in these areas.
The Australian Defence Force (ADF) will run two search and rescue helicopters out of the south coast. Up to 1,000 ADF personnel is expected to be deployed, while 1,700 SES volunteers are involved in rescue and clean-up efforts, helped by NSW RFS and Fire and Rescue Services.
St John Ambulance NSW volunteers are providing health services, first aid, and mental health support to the affected.
Flood victims can ask for free advice from the Disaster Response Legal Service.
St Vincent de Paul Society has launched a flood appeal. Almost $250,000 were raised on GoFundMe, including more than $100,000 for a Taree couple whose home was washed away on their wedding day.