Chancellor of the Exchequer Jeremy Hunt has extended subsidised childcare to children as young as 9 months old in what has been described by one economic expert as a "crowd-pleaser" in the run-up to the next general election.
In a move which had been widely trailed in the media, Hunt announced in Wednesday's Budget 30 hours a week of free childcare, which is currently available only for the parents in England of children aged 3 or 4, will be available for eligible households with children as young as 9 months old.
He said: "The 30 hours offer will now start from the moment maternity or paternity leave ends. It's a package worth on average £6,500 every year for a family with a two-year-old child using 35 hours of childcare every week and reduces their childcare costs by nearly 60 percent. Because it is such a large reform, we will introduce it in stages to ensure there is enough supply in the market."
From April 2024 working parents of children aged 2 would get 15 hours of free childcare, and that would be extended in September 2024 to 15 hours of free childcare for working parents of children aged 9 months to 3 years old.
The final phase—which would come into effect in September 2025, after the next general election—would see the offer increased to 30 hours.
Prime Minister Rishi Sunak has to call a general election by no later than January 2025 and the childcare offer has been seen by some as a sweetener to middle class voters.
'Unlikely to Get Many More Women Back Into Work'
Len Shackleton, a professor and research fellow at the IEA, said, "The new funding for childcare may be a crowd-pleaser but is unlikely to get many more women back into work."
Shackleton said: "There are not swathes of women unable to work because of expensive childcare, and in fact, we already have higher numbers of mothers of young children in work than the EU or OECD average. Ultimately, these taxpayer handouts will primarily benefit middle class families where the mother already works."
He said: "Extending the provision of 'free hours' but providing low payments to providers could result in a shortage of available places. A better approach would be targeted child allowances or providing vouchers, which parents can top up, while leaving providers to set prices in line with local conditions."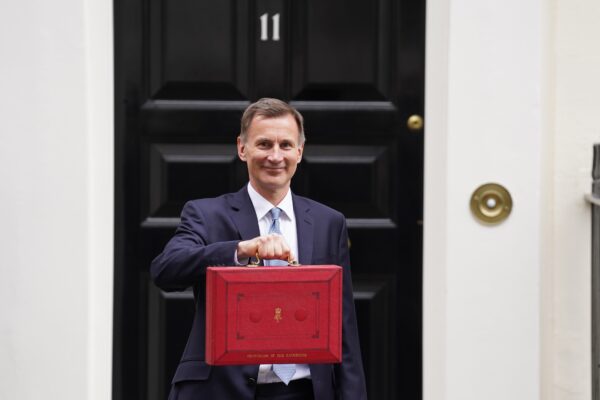 Green Party MP Caroline Lucas wrote on Twitter: "Hunt's offer on childcare won't be fully implemented until after next general election, doesn't help parents who work less than 16 hours, or those studying or training and government know poorer parents less likely to benefit. The offer should be universal for all."
Naomi Lott, a postdoctoral research fellow at Oxford University and expert on children's economic, social, and cultural rights, wrote on Twitter: In theory, great, but why the huge lag in implementing the policy change?! Oh yes… the first stage planned for just before the election."
'Government Could Crash the Childcare System'
Stella Creasy, a Labour MP and shadow business minister who returned from maternity leave last year, told Sky News: "I really worry about this announcement, if it's not backed up with the money needed to properly expand and fund the places. This government could end up crashing the childcare system, just as they crashed the economy."
Hunt also promised to fund extended breakfast club and after-school care for parents and changes to staff-to-child ratios in England to expand the supply of childcare.
He said all schools in England would offer wrap-around childcare from 8 a.m. to 6 p.m. for children by September 2026.
The chancellor also announced that parents on Universal Credit who get a job or increase their hours would be paid in advance, rather than in arrears, something which has been suggested is a major barrier for single mothers on low incomes.
The maximum they can claim for childcare would be increased by almost 50 percent to £951 for one child and £1,630 for two children.
Hunt said he hoped the move would help 700,000 parents on Universal Credit.
He said: "Many remain out of work because they cannot afford the upfront payment necessary to access subsidised childcare. So for any parents who are moving into work or want to increase their hours, we will pay their childcare costs upfront."
Hunt said the childcare package was designed to encourage more people, especially women, back into the jobs market.
But Christina McAnea, general secretary of the trade union Unison, said: "The government's childcare pledges are a helpful start but no panacea. Many nurseries struggle to offer enough free hours as it is, and can't recruit the workers to deliver extra."
Labour's shadow chancellor Rachel Reeves said the budget was "just papering over the cracks" and, in a hint of a possible general election slogan, said, "Labour will build a better Britain."
PA Media contributed to this report.