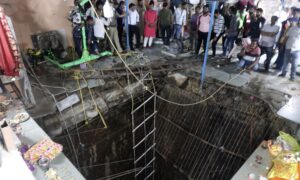 At least 36 people were killed, and 16 others were injured after the roof of a stepwell at a Hindu temple in India collapsed on Thursday, according to local authorities.
The incident occurred at the Beleshwar Mahadev Jhulelal temple in the Indian city of Indore.
Police said that a concrete slab covering an ancient stepwell had collapsed and crushed devotees who were gathered at the temple to celebrate the Ram Navami festival.
Local official Shivraj Singh Chouhan said the structure was unable to take the weight of the crowd and caved in. Dozens of people plunged into the water reservoir and were covered by falling debris.
Some 75 army personnel were deployed to assist with the ongoing rescue operation, which so far has taken over 18 hours. Chouhan said he had ordered an investigation into the incident, local news agency NDTV reported.
Shiv Shankar Maurya, a resident who spoke to India Today, said the stepwell had existed for about 100 years, while the temple was built about 50 years ago.
"Earlier, the stepwell was open but got covered around 25 years ago," Maurya told the news outlet. "The construction of [the] stepwell roof was completely illegal."
Municipal authorities in January ordered the temple owners to remove the covering of the well because it was an unsafe and unauthorized structure, but temple authorities ignored the warning, according to local reports.
"Action will be taken against [those] found responsible. The current priority is the rescue operation. The injured will be treated free of cost," Chouhan said. "We have ordered an inspection of such stepwell and borewells across the state."
Indian Prime Minister Narendra Modi expressed his condolences to the victims and their families regarding the mishap, saying that "the state government is spearheading rescue and relief work at a quick pace."
"Extremely pained by the mishap in Indore," Modi stated on Twitter. "My prayers with all those affected and their families."
Building collapses are common in India because of poor construction and a failure to observe regulations.
In October, a century-old cable suspension bridge collapsed into a river in the western state of Gujarat, plunging hundreds of people into the water and killing at least 132 in one of the worst accidents in the country in the past decade.
The Associated Press contributed to this report.